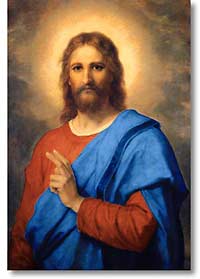 Part 55 of the Aquarian Gospel for Awakening
"A caravan of merchantmen were journeying through the Kashmir vale as Jesus passed that way, and they were going to Lahore, a city of the Hand, the five-stream land. The merchantmen had heard the prophet speak, had seen his mighty works in Leh, and they were glad to see him once again. And when they knew that he was going to Lahore and then across the Sind, through Persia and the farther West, and that he had no beast on which to ride, they freely gave to him a noble bactrian beast, well saddled and equipped, and Jesus journeyed with the caravan. And when he reached Lahore, Ajainin and some other Brahmic priests, received him with delight" (Aquarian Gospel 37:1-5).
Teaching Ajainin
"Ajainin was the priest who came to Jesus in the night time in Benares many months before, and heard his words of truth. And Jesus was Ajainin's guest; he taught Ajainin many things; revealed to him the secrets of the healing art. He taught him how he could control the spirits of the air, the fire, the water and the earth; and he explained to him the secret doctrine of forgiveness, and the blotting out of sins" (Aquarian Gospel 37:6-8).
This presents a Jesus undreamed of by those who have read only the Bible. It is also a Jesus that was seen by Anna Catharine Emmerich the stigmatist in her visions (see her Biblical Revelations), a Jesus who even explained the validity of astrology in his teaching.
The important aspect of this passage is the fact that Jesus really did mean it when he said: "Verily, verily, I say unto you, He that believeth on me, the works that I do shall he do also" (John 14:12), and he taught people how to actually do those things themselves. That is why he said: "I will give unto thee the keys of the kingdom of heaven: and whatsoever thou shalt bind on earth shall be bound in heaven: and whatsoever thou shalt loose on earth shall be loosed in heaven" (Matthew 16:19). And: "Whose soever sins ye remit, they are remitted unto them; and whose soever sins ye retain, they are retained" (John 20:23). A person who does not know how to do these things–and I do not mean by mere devotional prayer, but by knowing the science behind them and by having the ability to apply those principles successfully–is not fully a disciple of Jesus.
When Yogananda met his first American disciple, Dr. M. W. Lewis, he told him that he forgave his sins–and he did so by touching him and flooding his physical and subtle bodies with the Divine Light in which all the insurmountable obstacles accumulated in past lives were dissolved. Then he taught him how to purify his own sins. For example, Dr. Lewis was addicted to alcohol, and Yogananda showed him the way to free himself from that addiction. On more than one occasion when Dr. Lewis went to Yogananda about personal problems the great master showed him the way to free himself from them.
True master-teachers do not do it all for us, they show us how to do it for ourselves, meditation being the major how-to. The true Gospel [Good News] of Christ is twofold: the truth of our inner Christ, and the way to manifest that Christ. That which does not teach and so empower us is not Christianity at all, but the darkness of Antichrist, however piously it may be packaged.
Knowledge from past lives
"One day Ajainin sat with Jesus in the temple porch; a band of wandering singers and musicians paused before the court to sing and play. Their music was most rich and delicate, and Jesus said, Among the high-bred people of the land we hear no sweeter music than that these uncouth children of the wilderness bring here to us.

"From whence this talent and this power? In one short life they could not gain such grace of voice, such knowledge of the laws of harmony and tone. Men call them prodigies. There are no prodigies. All things result from natural law. These people are not young. A thousand years would not suffice to give them such divine expressiveness, and such purity of voice and touch.

"Ten thousand years ago these people mastered harmony. In days of old they trod the busy thoroughfares of life, and caught the melody of birds, and played on harps of perfect form. And they have come again to learn still other lessons from the varied notes of manifests. These wandering people form a part of heaven's orchestra, and in the land of perfect things the very angels will delight to hear them play and sing"(Aquarian Gospel 37:9-16).

Certainly it is obvious that a Mozart is not an accidental combination of biochemical forces, but that behind such a one lie aeons of progress. The same is true of geniuses in every aspect of knowledge, including spiritual knowledge. Without understanding karma, rebirth, and evolution of consciousness, nothing can be understood–only explained in a wrong manner or relegated to being "a mystery."
The way to rise to better things
Jesus taught great and profound secrets of life, sublime secrets of subtle metaphysics, but he taught simple and practical things as well. For example:
"And Jesus taught the common people of Lahore; he healed their sick, and showed to them the way to rise to better things by helpfulness. He said, We are not rich by what we get and hold; the only things we keep are those we give away. If you would live the perfect life, give forth your life in service for your kind, and for the forms of life that men esteem the lower forms of life"(Aquarian Gospel 37:17-19).
We uplift ourselves by uplifting others and showing them the way to uplift themselves. And not only human beings, but all sentient beings should be the recipient of our help. "The only things we keep are those we give away" is a priceless pearl of wisdom.
"But Jesus could not tarry longer in Lahore; he bade the priests and other friends farewell; and then he took his camel and he went his way toward the Sind" (Aquarian Gospel 37:20).
Read the next section in the Aquarian Gospel for Yogis: The Thirty-Eighth Chapter
(Visited 219 time, 1 visit today)