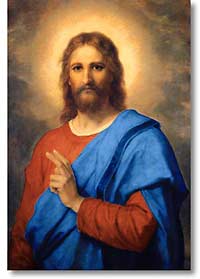 Part 39 of the Aquarian Gospel for Awakening
"And all the people were entranced, and would have worshiped Jesus as a God; but Jesus said, I am your brother man just come to show the way to God; you shall not worship man; praise God, the Holy One" (Aquarian Gospel 26:23,24).
Jesus asked his disciples who the people–and they–thought he was (Matthew 16:13, 15). But more important is the question: Who does Jesus say he is? The proof of this is the fact that the Christians wrangled, cursing and slaughtering one another, for several centuries over the question of just who/what Jesus was. The answer is found here in the Aquarian Gospel.
India
First we must remember that this is taking place in India, not in Israel. This is most important. For in India they considered Jesus was divine because of His wisdom teachings. In Israel some thought he was divine because of his miracles. One response is from spiritual intelligence and the other is from material identification. In her Biblical Revelations Anna Catherine Emmerich the stigmatist says that in India the people loved Jesus and understood his teachings thoroughly, and Jesus loved them and felt at home only in India. In contrast, she tells us that in Israel Jesus felt completely alien and the people could hardly understand anything of what he said. (Consider the incapacity of his own disciples to understand his words.)
Because of this, Jesus could say in India what would be useless to speak in Israel. However, truth is truth wherever we are, and his defining of himself is totally clear–and as true in "the West" (Israel) as in "the East" (India).
"I am your brother man"
Jesus says quite clearly and unequivocally that he is a human being, a "brother" of all human beings. He is not God pretending to be a human, or somehow having "taken upon" himself a human nature and thereby becoming both God and man. No. He is simply a man. A very special man, a god-man, but nonetheless a man.
To be perfectly accurate, Jesus had evolved far beyond the human status, but–as with all of us–he retained his evolutionary experiences; they were built into him permanently as his past, upon which his present status was based. In a sense, through our experiences and the effect of those experiences (samskaras) we all remain whatever life-form we ever manifested through. It like the Ph.D. who has passed beyond the learning of grade school, yet he still embodies it.
"Just come to show the way to God"
His statement of purpose is also simple and direct: to bring to mankind the way to God–not a philosophy or a theology, but the practical means by which humans can journey to divinity. Elsewhere in the Aquarian Gospel Jesus speaks of meditation–the Silence–and the Divine Word which emanates from that Silence and leads us to it. Jesus brought no elaborate system of ritual or belief, only The Way.
Though not a God or founder of a religion, he nonetheless had something to say to us in our journeying along the path he came to reveal.
"You shall not worship man"
Surely Jesus had in mind a presage of his eventual divinization and the erection of a multi-mouthed religion which would din into the ears of a confused humanity that he alone must be worshipped as God or else they would suffer the terrible consequences of everlasting damnation.
Having told us that he is a man, Jesus then tells us to worship no human being, ever. Certainly Jesus is worthy of total respect–even reverence–and it is no mistake to contemplate him with both awe and love. But he is Perfect Man, not Perfect God. As Perfect Man he deserves our unreserved admiration, and even more, he merits our serious attention and attempt to follow the Way he came to show us. As he himself said to his "groupies": "Why call ye me, Lord, Lord, and do not the things which I say?" (Luke 6:46). The idea is not that we must believe a theology and acknowledge him as God, but we must DO what he says–engage in spiritual practice that leads us to God-realization.
Their brother
I am your brother man just come to show the way to God; you shall not worship man; praise God, the Holy One." This is the perspective true disciples of Jesus must have. He is worthy of all reverence and love, but he must not be mistaken for God Who alone we should worship. That is why the esoteric Christian Creed says: "We believe in Jesus Christ, the Lord of love and wisdom, first among his brethren, Who leads us to the glory of the Father, Who is Himself the way, the truth, and the life." Jesus is the way, truth and life because he is the example, the pattern, for all disciples to conform to and follow in all aspects of their life. Unless we follow his example God has given us we will not find either way, truth or life. Jesus is himself the Gospel of Christ embodied as a man.
"Praise God, the Holy One"
What shall we do, besides? Glorify God. And why do that? Because in doing so we will be fixing our minds on God and therewith draw into our own being the infinite life that manifests in infinite glory. To think of any person or place is to be there on a subtle level of our being. To continually think of God, then, is to consciously dwell in God and become transmuted into his perfect image, to truly "find" God.
God is said by Jesus to be holy. Why not almighty, all-knowing, and such attributes? Certainly God is all those things, but foremostly he is HOLY. "As he which hath called you is holy, so be ye holy in all manner of conversation [conduct]; because it is written, Be ye holy; for I am holy" (I Peter 1:15,16). In Indian languages the same word–shuddha–is used for holy and pure. God being pure, we must also be pure. With this in mind, Saint John wrote: "Beloved, now are we the sons of God, and it doth not yet appear what we shall be: but we know that, when he shall appear, we shall be like him; for we shall see him as he is. And every man that hath this hope in him purifieth himself, even as he is pure" (I John 3:2,3).
This the Way of Christ.
Read the next section in the Aquarian Gospel for Yogis: The Real Versus The Apparent
(Visited 844 time, 1 visit today)