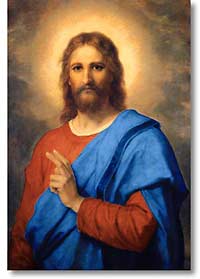 Part 31 of the Aquarian Gospel for Awakening
"Lamaas asked, Pray, what is faith? And Jesus said, Faith is the surety of the omnipotence of God and man; the certainty that man will reach the deific life.

"Salvation is a ladder reaching from the heart of man to heart of God. It has three steps; Belief is first, and this is what man thinks, perhaps, is truth. And faith is next, and this is what man knows is truth.

"Fruition is the last, and this is man himself, the truth. Belief is lost in faith; and in fruition faith is lost; and man is saved when he has reached deific life; when he and God are one" (Aquarian Gospel 22:25-31).
Faith
Most of what is written about faith in religious books miss the mark because the word itself is not understood. In modern English "faith" means believing in something for which there is no substantial proof. But the Greek word pistis, used in the New Testament, means stability in personal knowledge drawn from one's own experience. It also means to be loyal to that knowledge by living in accordance with it. Pistis also means to be confident in our experiential knowledge. Faith cannot be "awakened" in a person by reading books, listening to discourses, or engaging in discussions. It comes only from within, from his own self. Saint Paul underlined this when he wrote that "faith is the substance of things hoped for, the evidence of things not seen" (Hebrews 11:1). Note that he says substance and evidence. Faith is not an insubstantial idea. This is no matter of mere intellectual acceptance or emotional hope. Faith is proof that a person has experienced the reality of something; it is not a mere conviction based on reason or feeling.
Saint Thomas
Why, then, did Jesus say: "Thomas, because thou hast seen me, thou hast believed: blessed are they that have not seen, and yet have believed" (John 20:29)? This is continually used in exoteric Christianity to bully doubters into "faith" and to assure blind followers that they are blessed in their blindness. Here is how the Aquarian Gospel tells it:
"Now, Thomas, had not seen the Lord since he had risen from the dead, and when the ten averred that they had seen and talked with him he said, Until I see the nail prints in his hands and feet, the spear wound in his side, and talk with him as I have talked with him before, I cannot have a reason to believe that he is risen from the dead. At Simon's house in Bethany the men from Galilee had met. It was the evening of the first day of the week, and on the morrow all would turn their faces toward their homes. The eleven apostles all were there: the doors were closed and barred, and Jesus came and said, Peace be to all! And then he said to Thomas, Friend, you do not know that I have risen from the dead; the time has come for you to know. Come here and see the nail prints in my hands, the spear wound in my side, and talk with me as you have often talked with me. And Thomas came and saw and then exclaimed, My master, and my Lord! I do not now believe, I know that you are risen from the dead. And Jesus said, Because you see me you believe, and blessed are your eyes; but blessed thrice are they who see me not and yet believe. Then Jesus vanished from their sight, but the disciples were established in their faith" (Aquarian Gospel 177:20-29).
Jesus is speaking of faith in His resurrection; this is not a blanket approval of all belief whatsoever. Furthermore, He is speaking of those living at that time–His words have nothing to do with future "believers" who never met Him. Those who had met Jesus and claimed to become His disciples should have believed in His resurrection because He had told them He would rise from the dead. Also they should have believed the other disciples, knowing their reliability. But most of all, they should have believed because their intuition should have been developed enough for them to know when someone was speaking the truth to them. They should have been able to intuit the fact that Jesus was alive. How often we hear of people reported dead and those close to them declaring that they know–not just believe–that they are alive. And they later are found to be living. In the same way many people know inwardly that someone close to them has died, and it is found to be so. For example, one of my uncles was killed by an automobile colliding with the horse he was riding at night. Several miles away two of my cousins were driving down a country road when they saw a brilliant light flash up into the sky. One turned to the other and exclaimed: "Herbert's dead!" And so he was–having been killed at that very moment. Jesus was not just a teacher, He was an opener of consciousness, and those who were His worthy disciples should have known even without anyone telling them that He had arisen. His living presence shone throughout the world on that Easter dawn, and the sensitive picked it up. Thomas' problem was not doubt but imperception. Blessedness is not in blind faith but in a knowledge that goes beyond normal knowing, reaching into the higher levels of existence where the unknown becomes known.
Practical faith
Many things are true, and therefore there can be faith about many things, so Jesus outlines what worthwhile and illuminative faith is by listing what a worthy believer knows.
The surety of the omnipotence of God and man. This is astonishing truth, rarely spoken anywhere. Firstly, Jesus speaks of faith as surety, as unshakable knowledge that can be demonstrated. Even the religious bullies want us to believe in the omnipotence of God–otherwise how could He scare us and eventually take vengeance on us if we ignore or disobey His representatives? But to believe in the omnipotence of man–of ourselves–this is faith indeed. Yet, how else could it be if God and man are truly one? And they are.
Throughout the ages we read of human beings who seemed as gods to their contemporaries because of their great power–even omnipotence. In truth, many of the ancient "gods" really were human beings who had realized their full potential as Sons of God. Many of those believed to be incarnations of God Himself really were perfected beings who returned to earth for the deliverance of others, and many who in religions that insisted on a unique state of ultimate exaltedness for their founders were classified as saints, arhats, or bodhisattwas were omnipotent Sons of God, fully equal to those founders. But human classification means but little; and it means absolutely nothing to those who have heard the divine decree: "Thou art my Son" (Psalms 2:7).
Sons of God have appeared in all places of the world beyond number–and most beyond human memory–but India is a virtual factory for sons of God, many of whom I met in my travels there. (And some of whom were female "sons.").
The certainty that man will reach the deific life. "Beloved, now are we the sons of God, and it doth not yet appear what we shall be: but we know that, when he shall appear, we shall be like him; for we shall see him as he is" (I John 3:2). Spiritual life is more a matter of unfoldment and revealing rather than attainment. Those with Christine faith are certain that they and all others shall reach the deific life, which in Greek is called theosis–divinization or deification. This certainly runs counter to the religions that want to keep us penned up forever in some heavenly realm where we shall everlastingly flatter the insatiable ego of some deity with ceaseless praise and adulation. It is not to be wondered at that those who teach the true gospel of Christ–of divine sonship–are execrated and even slain by the "righteous" of such religions. But truth cannot be changed. "For ever, O Lord, thy word is settled in heaven" (Psalms 119:89).
It is also to be understood that faith manifests in life–in this instance in our perpetual striving to "reach the deific life." This is salvation. "For by grace are ye saved through faith;…for we are his workmanship" (Ephesians 2:8,10). It is a matter of nature.
What is salvation?
Salvation is a ladder reaching from the heart of man to heart of God. We start out with humanity and end up with divinity, having ascended from "earth" to "heaven," from finite human consciousness to infinite Divine Consciousness. This ladder of divine ascent goes from heart to heart, from the core of our being to the core of God's Being. We cannot start from any other point–not from the body, the emotions, the senses, the intellect, or even the will. We must penetrate into the center of our own existence, our spirit. This can be done only through meditation. Meditation propels us from rung to rung of the ladder of evolving consciousness. Anything other than the essential being of God is not the goal. Most seekers get lost along the way in many distractions, but those who realize that Consciousness alone matters will not go astray.
The three steps of the ladder
"[Salvation] has three steps:

"Belief is first, and this is what man thinks, perhaps, is truth." This is purely intellectual and even on occasion a great deal emotional. Both limited reason and limited feeling are the basis of belief.

"And faith is next, and this is what man knows is truth." We have been talking about this all along, so there is nothing to add to this statement.

"Fruition is the last, and this is man himself, the truth." We are ourselves the truth–reality. Therefore the seventh Pillar of Aquarian Christianity says: "A perfect man! To bring before the Triune God a being such as this was nature made. This consummation is the highest revelation of the mystery of life. When all the essences of carnal things have been transmuted into soul, and all the essences of soul have been returned to Holy Breath, and man is made a perfect God, the drama of Creation will conclude. And this is all" (Aquarian Gospel 59:14-16).
Wherefore Jesus concludes His words on faith by saying: "Belief is lost in faith; and in fruition faith is lost; and man is saved when he has reached deific life; when he and God are one." Amen.
Read the next section in the Aquarian Gospel for Yogis:  Healing and Healers
(Visited 657 time, 1 visit today)