Podcast: Play in new window | Download (Duration: 15:20 — 21.1MB)
Subscribe: Apple Podcasts | Google Podcasts | RSS
Click here to listen to How to Tell if You Are Making Progress in Meditation if you do not see the player above. The podcast length is 15:20 minutes.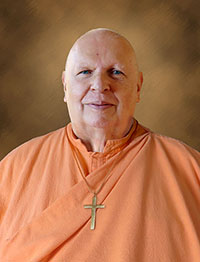 Today's podcast concerns how to gain a greater understanding of spiritual life through study of the Bhagavad Gita, and how to tell if you are making progress in meditation. Abbot George expands on list of seven indications of progress in meditation practice found in Journey to Self-Realization, a collection of talks by Paramhansa Yogananda, at the end of the talk entitled "The True Signs of Progress in Meditation."
True signs of progress in meditation
An increasing peacefulness during meditation.
A conscious inner experience of calmness in meditation metamorphosing into increasing bliss.
A deepening of one's understanding, and finding answers to one's questions through the calm intuitive state of inner perception.
An increasing mental and physical efficiency in one's daily life.
Love for meditation and the desire to hold on to the peace and joy of the meditative state in preference to attraction to anything in the world.
An expanding consciousness of loving all with the unconditional love that one feels toward his own dearest loved ones.
Actual contact with God, and worshipping Him as ever new Bliss felt in meditation and in His omnipresent manifestations within and beyond all creation.
Listen to more podcasts on leading a spiritual life on our Podcasts Page.
(Visited 1,899 time, 1 visit today)