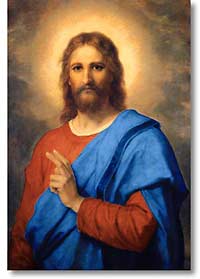 Part 22 of the Aquarian Gospel for Awakening
Passover in Jerusalem
"The great feast of the Jews [the Passover] was on, and Joseph, Mary and their son, and many of their kin, went to Jerusalem. The child was ten years old. And Jesus watched the butchers kill the lambs and birds and burn them on the altar in the name of God.

"His tender heart was shocked at this display of cruelty; he asked the serving priest, What is the purpose of this slaughter of the beasts and birds? Why do you burn their flesh before the Lord?" (Aquarian Gospel 18:1-3).
All normal children are shocked at the slaughter of animals, and usually dislike meat and have to be forced to eat it until it so coarsens and darkens their consciousness that it no longer repulses them. We can only imagine how the spectacle of ritual killing affected the mind and heart of the child Jesus, forcing him to challenge the priest that he saw doing such horrific things.
Sacrifice for sin?
"The priest replied, This is our sacrifice for sin. God has commanded us to do these things, and said that in these sacrifices all our sins are blotted out.

"And Jesus said, Will you be kind enough to tell when God proclaimed that sins are blotted out by sacrifice of any kind? Did not David say that God requires not a sacrifice for sin? that it is a sin itself to bring before his face burnt offerings, as offerings for sin? Did not Isaiah say the same?" (Aquarian Gospel 18:4-6).
Jesus is referring to many passages in which God expresses disapproval of animal sacrifice for sin, but he no doubt had these three in mind specifically: "Sacrifice and offering thou didst not desire; mine ears hast thou opened: burnt offering and sin offering hast thou not required" (Psalms 40:6). "For thou desirest not sacrifice; else would I give it: thou delightest not in burnt offering" (Psalms 51:16). "To what purpose is the multitude of your sacrifices unto me? saith the Lord: I am full of the burnt offerings of rams, and the fat of fed beasts; and I delight not in the blood of bullocks, or of lambs, or of he goats" (Isaiah 1:11).
Rabbi Hillel
"The priest replied, My child you are beside yourself. Do you know more about the laws of God than all the priests of Israel? This is no place for boys to show their wit.

"But Jesus heeded not his taunts; he went to Hillel, chief of the Sanhedrin, and he said to him, Rabboni, I would like to talk with you; I am disturbed about this service of the pascal feast. I thought the temple was the house of God where love and kindness dwell. Do you not hear the bleating of those lambs, the pleading of those doves that men are killing over there? Do you not smell that awful stench that comes from burning flesh? Can man be kind and just, and still be filled with cruelty? A God that takes delight in sacrifice, in blood and burning flesh, is not my Father-God. I want to find a God of love, and you, my master, you are wise, and surely you can tell me where to find the God of love" (Aquarian Gospel 18:7-13).
I knew a highly intelligent but somewhat unstable man who, when he saw he was losing an argument, would begin cursing at his opponents, using shockingly foul language, and then walk away leaving them stunned. In the same way when wrongdoers and deceivers are confronted with the truth about their ways, since they have no intelligent arguments they start personally attacking the ones they disagree with. This is rampant in American politics, but happens in religion too, as in this instance. "Just who do you think you are?" is a time-worn attack. But Jesus could not be intimidated by such a strategy.
Knowing that the great Rabbi Hillel had been his mother's personal teacher in religion while she lived in the Temple, he sought him out and expressed his rejection of the foul cruelty prevalent in the Temple worship. Moreover, he declared that "A God that takes delight in sacrifice, in blood and burning flesh, is not my Father-God," which indicates that Jesus did not think the true God was being worshipped in the Temple. When he met the king of Kashmir after his resurrection and return to India, Jesus told him: "I hail from a land far away, where there is no truth, and evil knows no limits." That pretty well puts a seal on it.
Asking where the God of love could be found, Jesus ended his questioning.
Jesus teaches the rabbi
"But Hillel could not give an answer to the child. His heart was stirred with sympathy. He called the child to him; he laid his hand upon his head and wept. He said, There is a God of love, and you shall come with me; and hand in hand we will go forth and find the God of love.

"And Jesus said, Why need we go? I thought that God was everywhere. Can we not purify our hearts and drive out cruelty, and every wicked thought, and make within, a temple where the God of love can dwell?

"The master of the great Sanhedrin felt as though he was himself the child, and that before him stood Rabboni, master of the higher law. He said within himself, This child is surely a prophet sent from God" (Aquarian Gospel 18:14-18).
Here Jesus teaches Rabbi Hillel a great lesson: our search for God must be an inner search involving perfect purification of our hearts and development of our consciousness to such a degree that God can dwell within us as His temple. Without this, externals are of no value or consequence whatsoever.
The result
"Then Hillel sought the parents of the child, and asked that Jesus might abide with them, and learn the precepts of the law, and all the lessons of the temple priests. His parents gave consent, and Jesus did abide within the holy temple in Jerusalem, and Hillel taught him every day. And every day the master learned from Jesus many lessons of the higher life.

"The child remained with Hillel in the temple for a year, and then returned unto his home in Nazareth; and there he wrought with Joseph as a carpenter" (Aquarian Gospel 18:19-22).
The rabbi taught Jesus outer lessons and Jesus taught him the inner wisdom which none else knew. After a year Jesus returned to Nazareth, prepared by his study in the Temple to bring an even great challenge to those that would be assembled there for passover when he had reached the ages of twelve.
Read the next section in the Aquarian Gospel for Yogis: Revelation to the Teachers and People in the Temple
(Visited 346 time, 1 visit today)