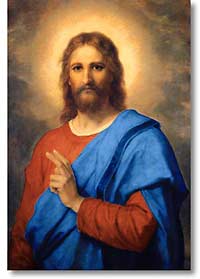 Part 105 of the Aquarian Gospel for Awakening
Pharisees
"Another Sabbath day had come and Jesus and the twelve walked through a field of ripened wheat. And they were hungry and they took the heads of wheat and in their hands threshed out the grain and ate. Among the men who followed them were Pharisees of strictest sect, and when they saw the twelve thresh out the wheat and eat, they said to Jesus, Sir, why do the twelve do that which is not lawful on the Sabbath day?

"And Jesus said, Have you not heard what David did when he and those who followed him had need of food? How he went to the house of God and from the table in the Holy Place took of the presence bread and ate, and gave to those who followed him? I tell you, men, the needs of man are higher than the law of rites. And in our sacred books we read how priests profane the Sabbath day in many ways while they are serving in the Holy Place, and still are free from guilt" (Aquarian Gospel 93:1-8).
It is only natural, and even inevitable, that those who focus their attention on external things will adopt a religion with the same focus. Such people usually have very few if any true beliefs, but rather are interested in the material aspects of the religion and rules of external behavior. For example, they will quite happily cultivate defilement of mind, but be obsessed with ceremonial purity. Such people, being merely physical, practically speaking (Origen called them "somas"–bodies), will interpret everything in material terms and will on occasion be incredibly insistent on extremely minor things.
Jesus was faced with these people all the time, and here he encounters them among those who were following him–not in mind, but physically. Such people are always watching for lapses and transgressions in the externals that are the only righteousness they are aware of. The more external their involvement, the more fervent and even rabid is their reaction to transgressions of what they think are spiritual principles.
Right perspective on religion
"The Sabbath day was made for man; man was not made to fit the Sabbath day. The man is son of God and under the eternal law of right, which is the highest law, he may annul the statute laws. The law of sacrifice is but the law of man, and in our law we read that God desires mercy first; and mercy stands above all statute laws.

"The son of man is Lord of every law. Did not a prophet sum the duties of the man when in the book he wrote: In mercy follow justice and walk humbly with your God?" (Aquarian Gospel 93:9-12).
True religion is not for God's benefit or glory, but for the purification and upliftment of humanity. Therefore that which elevates us is godly and necessary, and that which does not elevate, or even degrades us, is ungodly and to be shunned. Religion is not about pleasing or placating God, for that implies a lack on his part. Rather, it is about our healing and restoration to the divine image inherent in each one of us. Only when approached in this way will religion be a benefit to mankind and not the curse that so many religions have become. As Jesus indicates in this last verse: the purpose of religion is communion–and union–with God.
More Pharisaism
"Then Jesus and the twelve returned to Galilee, and on the day before the Sabbath day they reached the home of Jesus in Capernaum. And on the Sabbath day they went up to the synagogue. The multitudes were there and Jesus taught.

"Among the worshippers was one, a man who had a withered hand. The scribes and Pharisees observed that Jesus saw the man, and then they said,What will he do? Will he attempt to heal upon the Sabbath day?

"And Jesus knew their thoughts and he called to the man who had the withered hand and said, Arise, stand forth before these men. And Jesus said, You scribes and Pharisees, speak out and answer me: Is it a crime to save a life upon the Sabbath day? If you had sheep and one of them fell in a pit upon the Sabbath day would you do wrong to take it out? Or would it please your God to let it suffer in the mire until another day? But his accusers held their peace" (Aquarian Gospel 93:13-21).
We need to occasionally ask ourselves: Do I belong to and serve God, or do I belong to and serve a religion? Am I a good member of a religion or a consciously living and growing son of God? Here we seen the difference between Jesus who is living in, and as, God, and those that are servants of their own spiritual narcissism.
The true and the false
"And then he said to them, Are sheep of greater value than a man? The law of God is written on the rock of Right; and Justice wrote the law, and Mercy was the pen.

"And then he said, Man, raise your hand and stretch it forth. He raised his hand; it was restored" (Aquarian Gospel 93:22-24).
Nothing is more valuable than a conscious, living being. Any religious, philosophical, social or political system that puts anything whatsoever–including itself–above a single conscious being is evil and should certainly be avoided and even opposed if need be.
The Law of God is not a book or document, but the Truth and Right that is the fabric of the creation itself, for it, too, is made in the image of God. We look to reality, not a card-house of ideas thought up by human beings. God alone inscribes the Law. If human laws are in accord with the universal Law, that is good, but if they conflict with it, then they are bad. Right, Justice and Mercy are the three aspects of Divine Law, and we should order our lives according to those qualities. That Law is the true knowledge, the true science. All else is speculation, and usually harmful or foolish.
Unholy reaction
"The Pharisees were filled with rage. They called in secret council the Herodians, and they began to plot and plan how they might bring about his death. They were afraid to publicly accuse, because the multitudes stood forth in his defense.

"And Jesus and the twelve went down and walked beside the sea, and many people followed them" (Aquarian Gospel 93:25-27).
Just see this! The Pharisees not only were not willing to help an afflicted human being, they wanted to kill his healer. Hatred was their response to mercy. Evil people are always cowards unless they have numbers, money or political authority on their side. So they plot their evil in secret, even cooperating with those they hate so they can harm those they hate even more. (The Pharisees loathed the Herodians, but joined with them to harm Jesus.) Such people try to keep the truth from being known about their intentions and ways. Things have not changed. Just look at the contemporary political scene around the world and see what thuggery and hypocrisy is going on behind closed doors until exposed. And then they just regroup and keep right on plotting against humanity.
In contrast, the righteous do not fear their enemies, but keep on doing that which is right and teaching others to do the same. Good lives in the light and evil lives in the dark. That is why Jesus said to his accusers: "I spake openly to the world; I ever taught in the synagogue, and in the temple; and in secret have I said nothing" (John 18:20).
Read the next section in the Aquarian Gospel for Yogis: Prayer and Good Deeds
(Visited 369 time, 1 visit today)