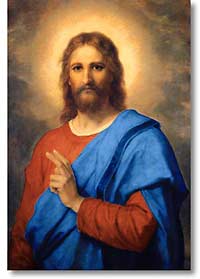 Part 111 of the Aquarian Gospel for Awakening
Lying
"The law has said: Thou shalt not lie; but in the eyes of law a man to lie must tell in words what is not true. Now, in the light of spirit law, deceit in any form is nothing but a lie. A man may lie by look or act; yea, even by his silence may deceive, and thus be guilty in the eyes of Holy Breath" (Aquarian Gospel 99:1-3).
It is a sad but true fact that many people like to create their own definitions of moral principles, and the more they want to cheat the narrower they make the definition. The more honest the person the broader is the definition of the principle. Jesus, being a teacher of righteousness, defines lying and other transgressions in the broadest manner. Not because he was strict, but because he had perfect understanding of the law of cause and effect and wanted to impart that understanding to us. Otherwise he would have been an unworthy teacher–something avidly desired by unworthy "seekers."
The words of this passage need no elucidation as they are very straightforward. The only thing I would comment is that most people's lives are themselves lies. For example, when we live like we are mortal rather than immortal, we are living a lie. The same is true when our lives hide or deny any principle of truth.
Oaths
"It has been said in olden times: Thou shalt not swear by thine own life. But, lo, I say, Swear not at all; not by the head, the heart, the eye, nor hand; not by the sun, the moon, nor stars; not by the name of God, nor by the name of any spirit, good or bad. You shall not swear by anything; for in an oath there is no gain. A man whose word must be propped up by oath of any kind is not trustworthy in the sight of God or man. By oath you cannot make a leaf to fall, nor turn the color of a hair" (Aquarian Gospel 99:4-9).
This, too, is extremely clear. Jesus said:
"Let your communication be, Yea, yea; Nay, nay: for whatsoever is more than these cometh of evil" (Matthew 5:37).
Our words should themselves be sufficiently worthy of belief. This is why the twentieth-century Japanese spiritual teacher, Mokichi Okada, insisted that we must strive to be trustworthy persons known to be so by others. Our very words should be a guarantee of truth. Therefore Jesus continues:
Words–worthy and unworthy
"The man of worth just speaks and men know that he speaks the truth. The man who pours out many words to make men think he speaks the truth, is simply making smoke to hide a lie" (Aquarian Gospel 99:10, 11).
We all know the truth of this.
The double-hearted
"And there are many men with seeming double hearts; men who would serve two masters at a time–two masters quite adverse. Men feign to worship God upon the Sabbath day and then pay court to Beelzebub on every other day. No man can serve two masters at a time no more than he can ride two asses at a time that go in different ways. The man who feigns to worship God and Beelzebub is foe of God, a pious devil and a curse of men" (Aquarian Gospel 99:12-15).
Saint James the apostle wrote:
"A double minded man is unstable in all his ways.…purify your hearts, ye double minded" (James 1:8; 4:8).
Nearly everyone is a schizophrenic in mind and heart. But healing is possible for those who seek it.
Treasure: heavenly or earthly?
"And men cannot lay treasures up in heaven and earth at once. Then, lo, I say, Lift up your eyes and see the safety vaults of heaven, and there deposit every gem. Where moth and rust cannot corrupt; where thieves cannot break in and steal. There are no safety vaults on earth; no place secure from moth, and rust and thieves. The treasures of the earth are but illusive things that pass away. Be not deceived; your treasures are the anchor of the soul, and where your treasures are your heart will be" (Aquarian Gospel 99:16-21).
This is why Saint Paul exhorts us to "walk in the spirit" (Galatians 5:16, 25).
Keep your heart
"Fix not your heart upon the things of earth; be anxious not about the things to eat, or drink or wear" (Aquarian Gospel 99:22).
This can only be done when our consciousness is centered in spirit rather than matter. For this there is only one way: meditation. No amount of studying or affirmation will do it. The consciousness must be purified and fixed in the Divine Reality.
Those for whom God cares
"God cares for those who trust in him and serve the race" (Aquarian Gospel 99:23).
This is speaking of a spontaneous awareness of God, not the acceptance of dogmatic teaching or theology about God. Furthermore, it leads to a dedication to active service of the divine in humanity.
Jesus told his disciples:
"Ye have not chosen me, but I have chosen you, and ordained you, that ye should go and bring forth fruit, and that your fruit should remain" (John 15:16).
And Saint John the Beloved:
"He that loveth not his brother whom he hath seen, how can he love God whom he hath not seen?" (I John 4:20).
Jesus further said:
"Verily I say unto you, Inasmuch as ye have done it unto one of the least of these my brethren, ye have done it unto me" (Matthew 25:40).

"Thou shalt love the Lord thy God…and thy neighbour as thyself" (Luke 10:27).
Since Jesus came "to seek and to save that which was lost" (Luke 19:10), his disciples must do the same.
Trust in God
"Behold the birds! They praise God in their songs; the earth is made more glorious by their ministry of joy; God keeps them in the hollow of his hand, and not a sparrow falls to earth without his care; and every one that falls shall rise again. Behold the flowers of earth! they trust in God and grow; they make the earth resplendent with their beauty and perfume. Look at the lilies of the field, the messengers of holy love. No son of man, not even Solomon in all his excellence, was ever clothed like one of these. And yet they simply trust in God; they feed from out his hand; they lay their heads to rest upon his breast.

"If God so clothes and feeds the flowers and birds that do his will, will he not feed and clothe his children when they trust in him?" (Aquarian Gospel 99:24-29).
The Dead Sea is dead because water flows into it but not out of it. In the same way those who only receive God's bounty for themselves and never give of themselves or their resources to help others as God has helped them, will become stagnate. People who are "in need" think only of their lack, not realizing that if they would share what little they have they would break through their limitations and needs.
During a visit to Hawaii I was told by a man that he knew of two elderly people on the big island that continually helped others, though themselves of small means. Some years back the volcano erupted and the lava flowed through Hilo where they lived. Everyone whose home was in the path of the lava flow fled, but they remained, even though their property was a dish shape which the lava would actually fill. When the lava reached the borders of their property, it flowed completely around it and continued on to the sea. This was the doing of Pele herself in response to their kindness and generosity.
Many such incidents have been told me throughout my life by people who either witnessed or themselves were the subject of such events.
Seek first…
"Seek first the kingdom of the soul, the righteousness of God, the good of men, and murmur not; God will protect, and feed, and clothe" (Aquarian Gospel 99:30).
Professional religion is happy with the first two ingredients, but "the good of men" in the sense Jesus is using it is of no interest to them. People are supposed to benefit them and give them their time and money–not the other way around as Jesus meant it. Any organization or group that puts its welfare before that of an individual member is negative and therefore harmful–and that includes those of a religious nature.
Anyhow, we must tend to our own spiritual life and follow the counsel of Jesus, seeking above all the kingdom of the soul, the righteousness of God, and the good of men. And this is to be done cheerfully and gratefully, not with complaining or feeling put upon, pressured or coerced. If that is our feeling, then there are only two possible reasons: our religion is negative, not positive; or we ourselves are being negative and not positive. We need to make an honest assessment and either change ourselves or our affiliations. This is the path of spiritual success.
Read the next section in the Aquarian Gospel for Yogis: Aspects of the Higher Law – 4
(Visited 279 time, 1 visit today)