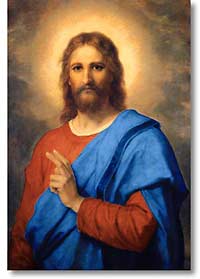 Part 93 of the Aquarian Gospel for Awakening
In Bethlehem: The Logos
"The Logos went to Bethlehem, and many people followed him. He found the shepherd's home where he was cradled when a babe; here he abode. He went up to the hills where more than thirty years before the shepherds watched their flocks and heard the messenger of peace exclaim: At midnight in a cave in Bethlehem the Prince of Peace is born. And shepherds still were there, and sheep still fed upon the hills. And in the valley near great flocks of snow-white doves were flying to and fro. And when the shepherds knew that Jesus, whom the people called the king, had come, they came from near and far to speak to him" (Aquarian Gospel 76:1-7).
Although Logos is usually translated as Word, it is much more than that. It is both concept and the impulse to express the concept. It arises from the deepest part of the individual consciousness. Word is secondary, an expression rather than the Thing Itself. Creation itself is an expression of Logos, not just in the sense of projected vibration, but as an idea arising from the direct, creative will of the infinite Brahman. This being so, any individual who realizes the primal idea or purpose of Brahman in sending forth creation and the sentient beings embodied within it can be called a Logos or Divine Word. It is in this sense that Jesus is called Logos in the Aquarian Gospel. Jesus is very clear in several places that he is neither God nor The Word, but rather a perfect image of God, a reflection-embodiment of Divine Perfection. He is a Christ–not the Christ, for The Christ is God. A Logos is a perfect realization of the Divine Intention for all sentient beings.
Unfortunately the New Testament was altered after the so-called Nestorian Controversy to reflect the new "orthodoxy" that had been hammered out by various gatherings of Byzantine imperial theologians. For example, in the Peshitta, the Aramaic text produced at that time, the Holy Spirit became male rather than female as the earlier texts had indicated. In the same way Jesus was turned into Godhead rather than a perfected Son of God. Here is an example of the confusion introduced: "God, who at sundry times and in divers manners spake in time past unto the fathers by the prophets, hath in these last days spoken unto us by his Son, whom he hath appointed heir of all things, by whom also he made the worlds; who being the brightness of his glory, and the express image of his person, and upholding all things by the word of his power, when he had by himself purged our sins, sat down on the right hand of the Majesty on high; being made so much better than the angels, as he hath by inheritance obtained a more excellent name than they" (Hebrews 1:1-4).
First we are told that Jesus created all the worlds, even though he has been "appointed" to that post, which implies that he did not possess that power and purpose from eternity. We are also told that Jesus is a reflection, an image of God–not God. A mirror image is never the thing reflected. Further, he is on the right hand of God, having been "made so much better than the angels" by God–and therefore not himself God. He "inherited" his glory or name; it, too, was not his by nature or from eternity. Those who wish may rationalize that these verses are a mixture of references to both Jesus' humanity and divinity, but that is just a concession to post-Nestorian orthodoxy, a position considered absolutely heretical by the Orthodox churches of Egypt, Ethiopia, Syria, Iraq, Armenia, and India–who nevertheless often engage in the same type of double-speak.
If you have a cross-reference Bible or Bible computer program, you can run the references on these verses from Hebrews and see the contradiction and confusion that result from covering up one lie with another, theologically speaking.
The worthy place
"And Jesus said to them, Behold the life of innocence and peace! White is the symbol of the virtuous and pure! the lamb of innocence; the dove of peace; and it was meet that love should come in human form amid such scenes as these. Our father Abraham walked through these vales, and on these very hills he watched his flocks and herds" (Aquarian Gospel 76:8-11).
White is a symbol of virtue and purity because it is not a color at all, but a reflection of the entire spectrum of light. It is a reflection, a shining forth of the Totality that is Infinite Being. In the same way a holy person shines with the Spirit. In such a one we do not see a limited, finite being, but Limitless Being–Limitless Consciousness. Such a person is truly divine, a Logos.
Having been Abraham in a previous incarnation, Jesus was drawn in that life to the places where Abraham had lived and received the revelation that in the future he would himself be the Christ, the Messiah.
The Prince of Peace: Melchizedek
"And here it was that one, the Prince of Peace, the king of Salim, came; the Christ in human form; a greater far than Abraham was he. And here it was that Abraham gave to this king of Salim, tithes of all he had.

"This Prince of Peace went forth in battle everywhere. He had no sword; no armor of defense; no weapons of offense; and yet he conquered men, and nations trembled at his feet. The hosts of Egypt quailed before this sturdy king of right; the kings of Egypt placed their crowns upon his head, and gave into his hands the sceptre of all Egypt land, and not a drop of blood was shed, and not a captive placed in chains; but everywhere the conqueror threw wide the prison doors and set the captives free" (Aquarian Gospel 76:12-18).
Here we see that Jesus considered Melchizedek, the prophet-priest mentioned in Genesis and Hebrews, to also be a Christ–just as Buddha said there had been many Buddhas preceding him. As Abraham, Jesus had been blessed by Melchizedek, and Christians have always considered him to be a foreshadowing of Jesus since he offered bread and wine on behalf of Abraham. The Christians priesthood has also been called "the priesthood of Melchizedek" for this reason. We see from these verses in the Aquarian Gospel that Melchizedek was truly a "prince of peace."
The Prince of Peace: Jesus
"And, once again, the Prince of Peace has come, and from these blessed hills he goes again to fight. And he is clothed in white; his sword is truth, his shield is faith; his helmet is innocence; his breath is love; his watchword peace.

"But this is not a carnal war; it is not man at war with man; but it is right against the wrong. And love is captain, love is warrior, love is armor, love is all, and love shall win.

"And then again the hills of Bethlehem were clothed with light, again the messenger exclaimed, Peace, peace on earth, good will to men.

"And Jesus taught the people; healed the sick; revealed the mysteries of the kingdom of the Holy One.

"And many said, He is the Christ; the king who was to come has come; Praise God" (Aquarian Gospel 76:19-26).
Here we find "the whole armor" of God listed in a more complete manner than in the book of Ephesians (chapter six), and it merits a careful pondering. The true Christine warfare is an inner war again ignorance and evil, leaving the outer world alone to muddle along as it has always done. That is why Jesus said: "Peace I leave with you, my peace I give unto you: not as the world giveth, give I unto you" (John 14:27).
Read the next section in the Aquarian Gospel for Yogis: Dealing With Spiritual Opposition
(Visited 331 time, 1 visit today)