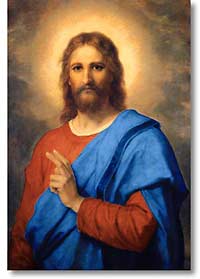 Part 104 of the Aquarian Gospel for Awakening
In Bethany
"Now, Lazarus was at the feast and Jesus and the twelve went with him to his home in Bethany. And Lazarus and his sisters made a feast for Jesus and the twelve; and Ruth and Asher came from Jericho; for Asher was no longer hostile to the Christ" (Aquarian Gospel 92:1, 2).
In Chapter seventy-seven we first encountered Ruth and–by his reputation–her husband Asher. Asher was a committed Pharisee and so intensely hostile to Jesus that he had driven Ruth our of their home in Jericho when she professed her faith in Jesus as the Messiah. When she came to Bethany and told Jesus of these things he told her: "Just wait a little time, and then go home with sympathy and love. Talk not of Christ, nor of the kingdom of the Holy One. Just live a godly life; refrain from harshness in your speech, and you will lead your husband to the light" (Aquarian Gospel 77:20, 21).
The validity of Jesus' advice is now proven, for Asher has come from Jericho with Ruth to be with Jesus.
Fire!
"And while the guests sat at the board behold a cry, The village is a-fire! and all rushed out into the streets, and, lo, the homes of many neighbors were in flames. And in an upper room an infant lay asleep, and none could pass the flames to save. The mother, wild with grief, was calling on the men to save her child. Then, with a voice that made the spirits of the fire pale and tremble, Jesus said, Peace, peace, be still! And then he walked through smoke and flame, climbed up the falling stair, and in a moment came again, and in his arms he brought the child. And not a trace of fire was on himself, his raiment, or the child. Then Jesus raised his hand, rebuked the spirits of the fire, commanding them to cease their awful work, and be at rest. And then, as though the waters of the sea were all at once poured on the flames, the fire ceased to burn" (Aquarian Gospel 92:3-8).
What we must keep in mind regarding miracles of this type is the fact that all creation is a manifestation of God, the dream of the Cosmic Dreamer. Those who know this truth by having realized it through their enlightenment can produce any change in the world–the universe–that they wish simply through willing and seeing it so. These miracles were not signs of Jesus' "favor" with God, but his union with God, a god within God. This is what he meant in the following:
"Jesus saith unto him [Thomas], I am the way, the truth, and the life: no man cometh unto the Father, but by me. If ye had known me, ye should have known my Father also: and from henceforth ye know him, and have seen him. Philip saith unto him, Lord, shew us the Father, and it sufficeth us. Jesus saith unto him, Have I been so long time with you, and yet hast thou not known me, Philip? he that hath seen me hath seen the Father; and how sayest thou then, Shew us the Father? Believest thou not that I am in the Father, and the Father in me? the words that I speak unto you I speak not of myself: but the Father that dwelleth in me, he doeth the works. Believe me that I am in the Father, and the Father in me" (John 14:6-11). Not understanding Jesus' meaning, exoteric Christianity has formulated errors regarding the nature of Jesus for two thousand years.
Another very important fact that is vigorously denied by exoteric Christianity is that there are spirits, known as elementals, which are attached to the elements of earth, water, fire and air. Those who through their illumined consciousness are able to command those spirits can consequently control all manifestations of their respective elements. It is true that "magicians" occasionally evoke and direct these spirits, but that has nothing to do with the ways of the sons of God, and is ultimately to their detriment.
Perspective on the world around us
"And when the fury of the fire was spent the multitudes were wild to see the man who could control the fire, and Jesus said, Man was not made for fire, but fire was made for man. When man comes to himself and comprehends the fact that he is son of God, and knows that in himself lies all the powers of God, he is a master mind and all the elements will hear his voice and gladly do his will" (Aquarian Gospel 92:9-11).
Everything that exists has a single purpose: the evolution of sentient beings. This includes even perilous elements such as fire. When we realize this there is nothing that cannot be mastered–not by the mere wishing or believing, but by the cultivation of our innate divine consciousness.
Two binders
"Two sturdy asses bind the will of man; their names are Fear and Unbelief. When these are caught and turned aside, the will of man will know no bounds; then man has but to speak and it is done" (Aquarian Gospel 92:12).
Humans can be asinine in many ways. Fear and Unbelief paralyze our intellect and our will. Unbelief is the worst because at least Fear acknowledges realities. Max Heindel, the great Rosicrucian writer, says in The Rosicrucian Cosmo-Conception that unbelief is the most negative state of which the human being is capable. He considers it the greatest evil that can grip a person. Both have the same effect: nothing is possible. The human being will never move forward as long as they are present in his heart and mind. They cannot be tamed or transmuted, they are to be laid hold of and cast out utterly. Then unlimited potential can become unlimited actualization. Jesus does not mean ordinary "speaking" is needed, but the Word spoken from the depths of illumined consciousness.
An appeal
"And then the guests returned and sat about the board. A little child came in and stood by Jesus' side. She laid her hand on Jesus' arm and said, Please, Master Jesus, hear! my father is a drunken man; my mother toils from morn till night and when she brings her wages home my father snatches them away and squanders every cent for drink, and mother and us little ones are hungry all the night. Please, Master Jesus, come with me and touch my father's heart. He is so good and kind when he is just himself; I know it is the wine that makes another man of him" (Aquarian Gospel 92:13-15).
One of the greatest evils in the world is the use of alcohol. It truly is a soul killer. There is no aspect of a human being that it does not attack and ultimately destroy. See The Four Soul Killers.
Wisdom calls
"And Jesus went out with the child; he found the wretched home; he spoke in kindness to the mother and the little ones, and then upon a bed of straw he found the drunken man. He took him by the hand and raised him up and said, My brother, man, made in the image of our Father-God, will you arise and come with me? Your neighbors are in sore distress; they have lost all they had in this fierce fire, and men must build their homes again and you and I must lead the way" (Aquarian Gospel 92:16-18).
"Thou shalt love thy neighbour as thyself" (Matthew 22:39). We think of this as a high ideal, a kind of noble aspiration, but in this incident we are shown that it is really therapeutic. Selfishness and self-pity compound our problems and sink us deeper into darkness and hopelessness. But if we will turn our attention away from "us" and outward to those we can benefit, these two monsters can no longer grip us. Further, the merit (good karma) we create for ourselves with ensure a better future condition for us. So we help both others and ourself.
Jesus showed trust and confidence to a man that doubtless had long ago abandoned any trust and confidence in himself, being caught in the despair of alcoholic slavery. We cannot even imagine what the man's feelings were when the famous teacher and healer, Jesus, wanted him to be a co-worker with him in helping others.
The result
"And then the man arose; the two went arm in arm to view the wrecks. They heard the mothers and the children crying in the streets; they saw their wretchedness. And Jesus said, My friend, here is work for you to do. Just lead the way in helpfulness; I'm sure the men of Bethany will furnish you the means and help.

"The spark of hope that so long had been smoldering in the man was fanned into a flame. He threw his ragged coat aside; he was himself again. And then he called for help; not for himself, but for the homeless ones; and everybody helped. The ruined homes were built again" (Aquarian Gospel 92:19-23).
Such power is always sleeping in each one of us. It only needs to be roused, and self-forgetfulness in mercy is one of the best ways to do so.
And then…
"And then he saw his own poor den; his heart was stirred into its depths. The pride of manhood filled his soul; he said, This wretched den shall be a home. He worked as he had never wrought before, and everybody helped. And in a little while the den became a home indeed; the flowers of love bloomed everywhere. The mother and the little ones were filled with joy; the father never drank again. A man was saved, and no one ever said a word about neglect or drunkenness, nor urged him to reform" (Aquarian Gospel 92:24-28).
This is extremely important. It is not enough to resolve: "I will not lie." We must resolve: "I will speak the truth." If all we think about are the things we should not do, even if we succeed we will just be a bundle of "don'ts." Rather, we must think of what we should to, the things that are opposite of the wrongs to be avoided. We will succeed in shedding the wrong, but more importantly we will fill our life with goodness.
I grew up in religion that thought virtue consisted in not doing wrong. Many people I knew were spiritual mediocrities that never did wrong, but did very little that was right. Consequently they were useless to both themselves and others. Making no progress, they were stagnant like the man in the following parable.
"The kingdom of heaven is as a man travelling into a far country, who called his own servants, and delivered unto them his goods. And unto one he gave five talents, to another two, and to another one; to every man according to his several ability; and straightway took his journey. Then he that had received the five talents went and traded with the same, and made them other five talents.And likewise he that had received two, he also gained other two. But he that had received one went and digged in the earth, and hid his lord's money.

"After a long time the lord of those servants cometh, and reckoneth with them. And so he that had received five talents came and brought other five talents, saying, Lord, thou deliveredst unto me five talents: behold, I have gained beside them five talents more. His lord said unto him, Well done, thou good and faithful servant: thou hast been faithful over a few things, I will make thee ruler over many things: enter thou into the joy of thy lord. He also that had received two talents came and said, Lord, thou deliveredst unto me two talents: behold, I have gained two other talents beside them. His lord said unto him, Well done, good and faithful servant; thou hast been faithful over a few things, I will make thee ruler over many things: enter thou into the joy of thy lord. Then he which had received the one talent came and said, Lord, I knew thee that thou art an hard man, reaping where thou hast not sown, and gathering where thou hast not strawed: and I was afraid, and went and hid thy talent in the earth: lo, there thou hast that is thine.

"His lord answered and said unto him, Thou wicked and slothful servant, thou knewest that I reap where I sowed not, and gather where I have not strawed: Thou oughtest therefore to have put my money to the exchangers, and then at my coming I should have received mine own with usury. Take therefore the talent from him" (Matthew 25:14-28).
Read the next section in the Aquarian Gospel for Yogis: Sabbath Wisdom
(Visited 656 time, 1 visit today)