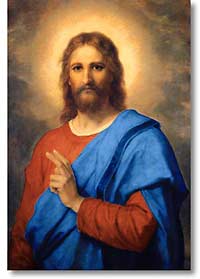 Part 27 of the Aquarian Gospel for Awakening
"Lamaas said, You answer well; now, what is man? And Jesus said, Man is the truth and falsehood strangely mixed. Man is the Breath made flesh; so truth and falsehood are conjoined in him; and they strive, and naught goes down and man as truth abides" (Aquarian Gospel 22:11-13).
Before Lamaas asked the question, Jesus Himself in His incarnation as David asked "What is man?" in two of the Psalms (Psalms 8:4; 144:3). The full answer would fill many pages, but Jesus states the facts most relevant to those seeking Christhood.
Man is the truth and falsehood strangely mixed
A human being is an immortal, unconditioned spirit encased in bodies formed of conditioned–and conditioning–matter. In the earlier part of Lamaas' questioning of Jesus regarding the nature of Truth (Aquarian Gospel 22:2-10) he learned that truth and falsehood are found together in this world. Yet not only the world: each of us is also a mixture of truth and falsehood, of spirit and matter. And it certainly is strange.
When we realize that we are a combination of truth and untruth (relatively speaking), we can be vigilant and discriminate between the times we are manifesting the truth or the untruth of ourselves and foster or censor our thoughts, words, and deeds accordingly. If we pursue this diligently, then in time the "death" of falsehood shall be "swallowed up in" the "victory" of truth. ("When this corruptible shall have put on incorruption, and this mortal shall have put on immortality, then shall be brought to pass the saying that is written, Death is swallowed up in victory" (I Corinthians 15:54). Until then, knowing about this mixture will help us to understand and deal with ourselves and with others–as well as the world itself. For one thing, we should expect that contradiction and inconsistency will arise in ourselves, in others, and in the world. Our reaction should be one of attempting correction, not passively accepting or bemoaning. We are not slaves; we are masters-in-training, and this mixture is meant for our eventual betterment.
Man is the Breath made flesh
We are the outbreathed breaths of God, united to body-vehicles through which we are to accomplish our evolution to Christ Consciousness. In Lamaas' prior questioning Jesus explained that what begins must end. Since our embodiment has begun it will end; but our nature as rays of God will not. So we need to do two things: recognize that our eternity is the real aspect of us, and work to eliminate the consciousness of the false so the real shall be revealed in us.
There is more to this. Jesus did not come to earth to convince us that we are miserable sinners who deserve everlasting damnation. Just the opposite: He came to prove that we are manifestations of divinity who have lost our way. But when we turn back into the right way through heeding His teaching we can move on toward the manifestation of our innate Christhood. The unworthy teachers of Judaism at that time hated this truth as much as the Churchians of today. And so the following occurred:
Jesus said: "I and my Father are one. Then the Jews took up stones again to stone him. Jesus answered them, Many good works have I shewed you from my Father; for which of those works do ye stone me? The Jews answered him, saying, For a good work we stone thee not; but for blasphemy; and because that thou, being a man, makest thyself God. Jesus answered them, Is it not written in your law, I said, Ye are gods? If he called them gods, unto whom the word of God came, and the scripture cannot be broken; say ye of him, whom the Father hath sanctified, and sent into the world, Thou blasphemest; because I said, I am the Son of God?" (John 10:30-36).
This is the teaching of Jesus. We are gods, sons of God, and intended to demonstrate that just as did Jesus. Yes, in a sense we are all incarnations of God, and should live accordingly. That is why sin is so outrageous–it is not our nature. If we were sinners by nature then what else could we do but sin? What complaint would God have? How could He expect anything else from us? The Abusive Cosmic Father that Churchianity presents to us says that we are "but dust" and utterly corrupt and sinful from before our birth, and then proceeds to fume and rave at us, deprecating and condemning us to everlasting hell if we do not turn away from what it is our nature to do–a nature he created. He tells us that we are "offensive" to him, a "stench" in his nostrils, and we had better straighten up or else. But crookedness, he, insists, is our nature. Could we do otherwise than be crooked? I knew an abusive father that used to tell his children he was going to beat them until they wet their pants and then beat them for that. This is the God Churchians would have us believe in, and the hideous image they want us to have of ourselves. But Jesus taught otherwise.
So truth and falsehood are conjoined in him
We are a combination of truth and falsehood because the Holy Breath, who gives us "birth" into this world, Herself manifests in this mixed manner. But She does so for a purpose, which is that:
They strive, and naught goes down and man as truth abides
Perhaps the most perfect exposition of the nature and destiny of humanity is the Bhagavad Gita, the most influential scripture of India. The Gita is a conversation that takes place on a battlefield in northern India just before the Great Indian (Mahabharata) War takes place. The first chapter is a description of the forces drawn up for battle, and is intended as a symbolic picture of what goes on within the person who has evolved enough consciousness to be galled at the contradictions of positive and negative within himself, and who has developed enough will to intervene and begin working for the defeat of the negative and the ascendancy of the good. We all have to do it. That is why Jesus said He came to bring a sword–not a sword of earthly battle, but the sword of illumination that would cut away the bonds of ignorance and set us free in the liberation of Spirit.
"Think not that I am come to send peace on earth: I came not to send peace, but a sword" (Matthew 10:34). "Earth" is the state of good and evil, truth and false, being inextricably bound up together. Most religion tries to pacify this state and make it acceptable and even desirable to people. But the wise refuse pacification and engage in the inner warfare that alone can bring peace through the elimination of evil and untruth. (The wise do not try to reform others–only themselves.) Illumined consciousness is the sword that vanquishes the enemy and establishes real peace within. In Indian symbolism the Holy Breath is depicted as Durga and Kali, both holding swords that represent prajna–pure consciousness. To make this clear, Kali's sword always has an eye drawn upon it.
We are all destined to win the battle, so we need not shrink back from the striving in which the "naught" of illusion (and sin and evil are illusions) sinks away from our consciousness, subconscious, and superconscious, and we as embodiments of the Truth, of God, remain. Thus it really has always been, so that state is not attained, just revealed as all that obscure it is dispelled.
This is the glorious message Jesus came to bring us, the revelation of "Christ in you, the hope of glory" (Colossians 1:27).
Read the next section in the Aquarian Gospel for Yogis: What is Power?
(Visited 496 time, 1 visit today)