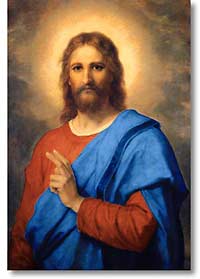 Part 44 of the Aquarian Gospel for Awakening
Seeing oneself
"When Jesus had thus said he stood aside; the people were amazed, but strove among themselves. Some said, He is inspired by Holy Brahm; and others said, He is insane; and others said, He is obsessed; he speaks as devils speak" (Aquarian Gospel 28:26, 27).
"Out of the abundance of the heart the mouth speaketh" (Matthew 12:34). What is inside comes out through our speech. Those with God awakened within them said that Jesus was inspired by God; but those who were spiritually insane, obsessed and demons, said otherwise, attributing their state to him. So it will always be. When we see how Jesus was renowned from birth, how many people declared him the Messiah, and what incredible signs of his divine sonship were witnessed by multitudes, we are astounded that he was eventually rejected and killed. But if we realize that the bestial nature still living in humanity was simply "doing what comes naturally," we are saddened but no longer amazed.
A guest
"But Jesus tarried not. Among the guests was one, a tiller of the soil, a generous soul, a seeker after truth, who loved the words that Jesus spoke, and Jesus went with him, and in his home abode" (Aquarian Gospel 28:28).
Here we have a very typical picture. Those who had been questioning Jesus and playing the role of "seeker," offered him no place to stay. When Swami Vivekananda was in Boston, the social elite would introduce him fulsomely on the platform, and anyone who "mattered" in Boston society clamored to hold receptions for "The Swami Vivekananda from India." But when the speeches and receptions were over, none of them opened their homes to him. Instead, he was required to live in the squalor of the "colored section" of Boston. After all, he was "a darkie." Twenty years later, nothing had changed. Although invited to Boston as a delegate to the International Congress of Religious Liberals, Yogananda also was shunted off into the same ghetto. The Boston Brahmins still had their own code of untouchability.
Jesus experienced this code nearly two thousand years before. But that is fortunate for us, because we can draw spiritual lessons from the description of the one who welcomed him into his home.
Later, in Israel, "Jesus answered and said unto him, If a man love me, he will keep my words: and my Father will love him, and we will come unto him, and make our abode with him." We always live in God, but God can live in us in a very real and dynamic manner. This was the glory of Jesus–that he could truthfully say: "He that hath seen me hath seen the Father" (John 14:23). "Behold, I stand at the door, and knock: if any man hear my voice, and open the door, I will come in to him, and will sup with him, and he with me" (Revelation 3:20).
In this verse from the Aquarian Gospel we learn that the host of Jesus was a farmer, a member of the Vaishya caste. We was not an outcaste, yet he was considered too low for the Brahmins to come into his house. Surely Jesus remembered this when in Israel the Roman centurion, a man of great power and position, said: "Lord, I am not worthy that thou shouldest come under my roof" (Matthew 8:8).
But we learn three other things about Jesus' host which we can adopt to qualify ourselves to become an abode of divinity.
A generous soul
The besetting sin of modern "seekers" is selfishness, which includes self[ego]-centeredness. Their predatory nature is downright disconcerting. When I was in Hong Kong in 1962, I felt surrounded by people that would cut my throat for ten cents. I get the same feeling when in a crowd of metaphysical dabblers, including supposed yogis. There is nothing they will not do to get the desired spiritual ego-enhancers. And God help you if they decide you have what they want. Luckily, they have an instinctive aversion for real spirituality, so that takes the heat off somewhat. But they are still after any "stuff" that may give them the appearance of spirituality. As Jesus said: "Verily I say unto you, They have their reward" (Matthew 6:2) in the form of their insatiable greed.
The worthy soul, however, is just the opposite. He seeks to give, and finds fulfillment in giving. He gives to both God and man in gladness. I have had the good fortune to live with such people. Some were "ordinary people," but others were saints and masters. The supreme example of generosity was Swami Sivananda of Rishikesh. As his beloved disciple, Swami Chidananda, has said, his sole thought throughout day and night was how to serve others. In him I saw total and perfect generosity, springing from a soul-felt love for all he came in contact with. It is impossible to exaggerate his virtue; rather, it is impossible to convey it to any but the palest degree. But those of us who experienced it know how real and blessed it was.
God is the supreme Giver, and if we would draw near to Him we, too, must be givers in all aspects of life.
A seeker after truth
The second trait of Jesus' host was a very real seeking after truth. There was no duplicity or shadow of doubt in his seeking. He wanted the truth and all it entails, for God is the ultimate Truth.
Who loved the words that Jesus spoke
Finally, he loved the words that Jesus spoke. He did not just accept and follow mechanically, but rejoiced in the truth of Jesus' words. For love and joy cannot be separated.
Many religionists obviously find the truth a dose of bitter medicine, and see it as a discipline they must undergo. So they coerce themselves and others into "obeying." Fear and bullying are the goads by which they push both themselves and others along a path for which they obviously have no affinity or liking. But the worthy love the path, even if it be thorny and stony, taking as their inspiration Jesus, "who for the joy that was set before him endured the cross, despising the shame" (Hebrews 12:2) as nothing, as a small price to pay for the infinite glory to which it was the necessary door. Love does such things.
If we would become abiding-places of God, the same path must be ours, as well.
Read the next section in the Aquarian Gospel for Yogis: Come to the Light
(Visited 180 time, 1 visit today)