Chapter 11 of the Gospel of Thomas for Awakening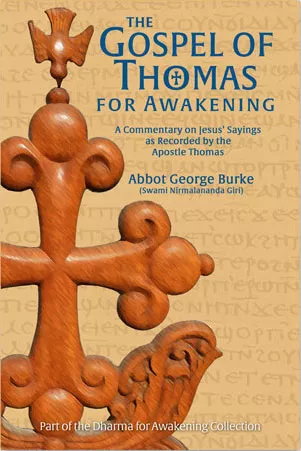 Jesus said, This heaven will pass away, and the one above it will pass away. The dead are not alive, and the living will not die. In the days when you consumed what is dead, you made it what is alive. When you come to dwell in the light, what will you do? On the day when you were one you became two. But when you become two, what will you do? (11)
This is one of many saying of Jesus recorded in the Gospel of Thomas which is completely inexplicable without some knowledge of Indian philosophy (Sanatana Dharma). To me it is another demonstration of the fact that if anyone wishes to follow Jesus they must follow him to India for complete understanding. As a Saint Thomas Christian priest from India once remarked to me: "To understand the teachings of Jesus you have to know the scriptures of India."
This heaven will pass away, and the one above it will pass away. Creation takes place in cycles–projection and withdrawal–in fact, there is no such thing as creation, but rather there is manifestation. In Sanskrit the word for the withdrawal of the worlds is pralaya, which means dissolution. The three lower worlds (lokas) or spheres are known as Bhur, Bhuvah, and Swah. Bhu Loka is the material level of existence, whereas Bhuvah and Swah are the two lower astral worlds, "heaven" and "the one above" that.
Jesus wants us to realize that not only is the earth temporary, so also is heaven. Neither heaven nor earth are our true home, so we must look beyond them. One Pentecost I was visiting the Coptic monastery outside Frankfort, Germany. The Abbot, Father Matthew, explained to the people that they were mistaken if they planned to go to heaven forever. "God has something much better than that," he told them. "He intends for us to enter into the great Light of God–into himself." That is why Jesus in his life as David sang: "When I awake, I am still with thee" (Psalms 139:18). And: "I will behold thy face in righteousness: I shall be satisfied, when I awake, with thy likeness" (Psalms 17:15). We must identify with our eternal nature.
The dead are not alive, and the living will not die. Jesus brings to his hearers the immortal teaching of the Bhagavad Gita: "Truly there never was a time when I was not, nor you, nor these lords of men–nor in the future will there be a time when we shall cease to be. It is known that the unreal never comes to be, and the real never ceases to be. The certainty of both of these principles is seen by those who see the truth. Know indeed that That by which all this universe is pervaded is indestructible. There is no one whatsoever capable of the destruction of the Eternal. These bodies inhabited by the eternal, indestructible, immeasurable, embodied Self are said to come to an end." (Bhagavad Gita 2:12, 16-18). Forgetting our true Selves whose very nature is Life, we identify with the material body and material conditions. We avidly run after them. Practically speaking, we pursue death and deny life, seeking to vivify the dead and kill the living: our own Self. In time, though, our true Self breaks through and posits the question the angel asked the mourners at the tomb of Jesus: "Why seek ye the living among the dead?" (Luke 24:5). Yes; why, indeed?
In the days when you consumed what is dead, you made it what is alive. We must come to realize that we are life itself, as is God, that the dead only "live" through contact with us. We are the only source of life in our private sphere of evolution. Yet we idolize that which has no value or meaning except in its relation to us. Our involvement with it is the only life it has, yet we exalt it above us and even claim to be dominated by it. In time we come to think that if it is eliminated from our life we will die, either physically or metaphysically. We are thus truly negative: black is white and white is black; empty is full and full is empty; something is nothing and nothing is something; the dead is alive and the live is dead.
The dilemma is colossal. How can we ever break out of it? Actually it is easy because we are Life itself. All we need do is turn to our own Self. That is why Buddha said: "Turn around, and behold! the Other Shore." Getting into our mess is much harder than getting out. This is an unaccepted truth, but it is no less the truth. It is material life that is hard, because it is an attempt to accomplish the impossible, to make the dead alive. Spiritual life is comparatively easy because it is a matter of "is"–of eternal reality.
Our eternal status must be pursued, must be driven home in our consciousness. So Jesus puts forth two crucial questions.
When you come to dwell in the light, what will you do? When our consciousness once more comes to dwell in the light of spirit, both finite and Infinite, what will we do? Nothing. As Buddha said: "Birth is exhausted [that is, the karma that produces birth is dissolved, has ceased to exist], the holy life has been lived out, what can be done is done, of this there is no more beyond." Perfection having been reentered, nothing remains to be done or not done.
On the day when you were one you became two. But when you become two, what will you do? There was a time when we were in the state of unity, but then we entered into duality. When that occurred, what, then, could we do? Again: nothing. For we had made ourselves helpless through immersion in unreality.
There is, however, a single thing needed: Awakening. But we do not "do" awakening, for being awake is a state. So we need only stop sleeping and lo! we will find ourselves awake in Reality. Therefore Saint Paul wrote: "Awake, thou that sleepest, and arise from the dead, and Christ shall give thee light" (Ephesians 5:14).
Read the next section in The Gospel of Thomas for Yogis: Who Shall Lead?
(Visited 2,964 time, 1 visit today)