Chapter 42 of the Gospel of Thomas for Awakening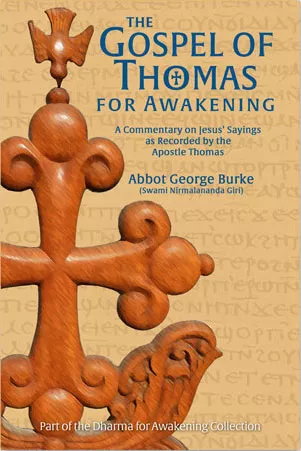 Jesus said, Become passers-by. (42)
The great Mughal emperor, Akhbar, in 1601 A.D. built a gate at Fatehpur Sikri on which he had written in Persian: "Jesus, son of Mary, said: The world is a Bridge, pass over it, but build no houses upon it." Simple wisdom, but not so easy to put into practice. Even though from birth we are witnessing the temporary character of everything in this world as well as the fact that everyone who comes into it through birth is inexorably moving toward the exit of death, we desperately hold on to things, situations and people, trying to make the raging stream of "change and decay all around I see" stop for us so we can feel safe and be without worry or fear.
The time must come when we heed and accept the assurance of the Bhagavad Gita: "Death is certain for the born. Rebirth is certain for the dead.… Before birth, beings are not manifest to our human senses. In the interim between birth and death, they are manifest. At death they return to the unmanifest again" (Bhagavad Gita 2:27-28). This is a Christian teaching, too, for Saint Paul tells us that "the fashion [schema: form] of this world passeth away" (I Corinthians 7:31). And Saint John says: "the world passeth away" (I John 2:17). Everything is breaking apart at different rates of speed. Water evaporates quickly and mountains last for millions of years, but everything disappears eventually. So if we lived for thousand or millions of years we would still be experiencing the perishable nature of all things. For the Gita also speaks of "mighty world-destroying Time" (11:32).
Actually, becoming "strangers and pilgrims" as Saint Paul and Saint Peter advise us (Hebrews 11:13; I Peter 2:11) is not noble or wise, it is just plain good sense, for that is all we ever are in this world. Our external lives and bodies break down and blow away just like everything and everyone else. If we try to go against this current of dissolution we will be overwhelmed and drowned in the flood and end in misery. If we acknowledge it and go along with it, learning the lessons it conveys, we have a chance of attaining peace.
The way is simple, actually: enter into and abide in the unchanging Spirit which is the source of all worlds and the source of us as well. Dwell in the unmoving center of all things: God. This is immortality.
"Therefore become a yogi" (Bhagavad Gita 6:46).
Read the next article in the Gospel of Thomas for Yogis: Challenging the Master
(Visited 456 time, 1 visit today)