Chapter 13 of the Gospel of Thomas for Awakening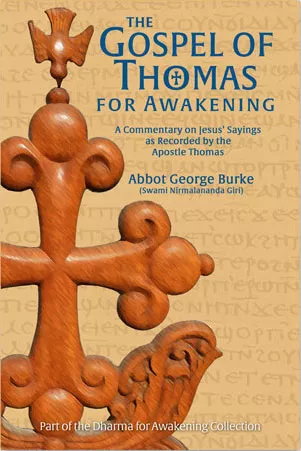 "I know the departed beings and the living, and those who are yet to be, but none whatsoever knows me" (Bhagavad Gita 7:26). So said Krishna on the battlefield. Then later:
Jesus said to his disciples, Compare me to someone and tell me whom I am like.
Simon Peter said to him, 'You are like a righteous angel.'
Matthew said to him, 'You are like a wise philosopher.'
Thomas said to him, 'Master, my mouth is wholly incapable of saying whom you are like.
Jesus said, 'I am not your master. Because you have drunk, you have become intoxicated from the bubbling spring which I have measured out.'
And he took him and withdrew and told him three things. When Thomas returned to his companions, they asked him, 'What did Jesus say to you?'
Thomas said to them, 'If I tell you one of the things which he told me, you will pick up stones and throw them at me; a fire will come out of the stones and burn you up.' (13)
Levels of consciousness, levels of understanding
It is sometimes said in the East that there are as many worlds as there are human beings–that we each see the world according to the level of our consciousness, which is greatly–usually totally–subjective. I saw this early on in my life. I knew people who lived and breathed the supernatural. They did not believe in spiritual realities, they knew them. (As Jung once told an interviewer: "I do not believe there is a God, I know there is a God.") Yet right next door to them lived people who had not a hint of anything beyond the "normal" mundane life. It is a matter of record that some people can enter a haunted place and instantly be aware of its character, whereas others can even live there and experience nothing unusual.
Perception is a matter of evolution, and so is understanding. In the Bhagavad Gita and the Gospels there are expositions of how people perceive things according to their capacity for insight. The same is true in this incident from the Gospel of Thomas. Peter, being emotional and sentimental, thinks Jesus is a holy angel. Matthew, more intellectual, sees him as a worthy philosopher. But Thomas, having a mystical outlook derived from experience, knows that he cannot intellectually express the nature of Jesus. In Eastern Christianity they adamantly say that God cannot be seen–and that you will know it when you see him! What they mean is that God cannot be encompassed by the finite mind of the individual, yet Divinity can be perceived to some degree. No one standing on the shore can see the ocean in the sense of seeing the whole thing. We can only see a tiny bit of the ocean. So we both do and do not see it, like the person who, dazzled by the sun, says: "I can't see anything." But of course he sees the bright sunlight.
This is why they also say in the East: "He who knows tells it not; he who tells knows it not."
No longer "master"
In response to Thomas's words, Jesus tells him that he is no longer his master, for Thomas has drunk of the same font from which he drew his wisdom. Even though contemporary Christianity insists on us being servants of Jesus, grovelling before him as not just our master but our God, Jesus said to his original disciples: "I call you not servants; for the servant knoweth not what his lord doeth: but I have called you friends; for all things that I have heard of my Father I have made known unto you" (John 15:15). Now they, too, were knowers (gnostics) as was Jesus. And we can be the same.
Brown translates Jesus' words as: "I am not your teacher, now that you have drunk. You have become drunken from the bubbling spring which I have measured out." This is like the eleventh Ode of Solomon which says: "Speaking waters drew near my lips, from the fountain of the Lord plenteously. And I drank and was inebriated with the living waters that do not die. And my inebriation was not one without knowledge, but I forsook vanity" (Odes of Solomon 11:6-8).
The disciples of Jesus ceased to be disciples and became his friends. It would seem that there is a great difference between being a Christian and being a friend of Christ, a true disciple. Rather than wailing over the wicked world and warning everyone to "flee from the wrath to come," Jesus' friends rejoice in the life they have found. And share it.
Just a few hours before beginning to write this article, I read some of the reminiscences of Sri Ma Sarada Devi by Ashutosh Mitra, a disciple of Sri Ma and brother of Sri Ramakrishna's disciple Swami Trigunatitananda who lived many years in San Francisco. He told of how he met a young doctor who was addicted to alcohol and drugs because of the great sorrows of his life. When the doctor told Ashutosh of his sufferings, Ashutosh assured him that he (Ashutosh) knew the way to great happiness and the end of all grief. After some time he took the doctor to meet the Holy Mother Sarada Devi, who gave him, too, the secret of a blessed life. He no longer needed faith; she had shown him the living way, the real way of Christ–and of Buddha and Krishna, as well.
The wisdom of "unknowing"
Because Thomas knew that Reality is beyond limited human speech, Jesus could teach him the real Gospel–the Good News. This is one of the contradictions with which human existence abounds. Those who know they cannot know are then enabled to know.
Whether Jesus only spoke three actual words, or whether he spoke three sentences or even three discourses, we cannot know, for logos means all three of those things. But whichever it may have been, they were mighty in their effect. For when the others asked what he had been taught, Thomas assured them that they would stone him for blasphemy if he told them even one part. Or rather, they would try to stone him but would themselves be destroyed for their rashness. For Truth destroys untruth–sometimes even on the material level, just as Uzzah was killed when he touched the Ark of the Covenant, being virtually electrocuted by the tremendous power that pulsed through it (II Samuel 6:3-7), which is why it could only be carried by means of poles put through the metal rings on its sides.
Spiritual realities are not always reassuring or even safe to the ignorant.
And there Saint Thomas leaves the whole matter.
Read the next section in The Gospel of Thomas for Yogis: When Virtue is Vice
(Visited 1,237 time, 1 visit today)