Chapter 108 of the Gospel of Thomas for Awakening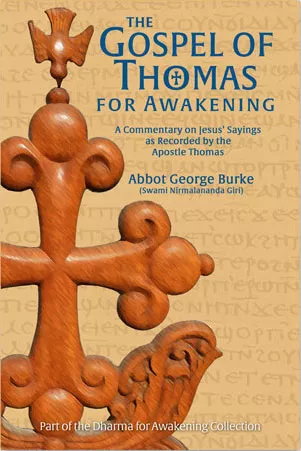 Jesus said, He who will drink from my mouth will become like me. I myself shall become he, and the things that are hidden will be revealed to him. (108)
I have already pointed out that liberated masters often speak on two very different levels: from their finite spirit and from the infinite Spirit with which they are one. Consequently they sometimes speak as God and sometimes as only themselves, which can be confusing to those who do not possess a more metaphysical understanding. Naturally someone commenting on a master's words will have to decide which aspect is speaking, the finite or the infinite, and comment accordingly. It seems safest to me to consider this verse the words of the universal Christ or Christ Consciousness, the Only Begotten of the Father–the Son of God, the personal aspect of the Absolute "incarnate" within the body of the universe.
For many years Paramhansa Yogananda wrote a commentary on the Gospels which appeared in his magazine. Toward the end of his life he told some of his disciples that he had prayed to Jesus, asking him if he had correctly relayed his teachings through his articles. Jesus appeared to him and said: "The cup from which I drink, thou dost drink." Jesus drank from the mouth of the Father, and so did Yogananda.
The mouth of Jesus and the mouth of the Father are the same. Therefore, whatever the tradition of a master might be, his words will be the words of a Christ, a perfect son of God. As Yogananda also said, there is no real spiritual difference between the masters, for they are perfect reflections of the one and only God. That is why in his autobiography he speaks of "the Yogi-Christs of India." In chapter twenty-four he wrote: "Yoga has produced, in every age of India, men who became truly free, truly Yogi-Christs." Though not born in India, Jesus, too, was a Yogi-Christ of India where he lived more than half his life before beginning his mission to Israel and to which he returned after three years to live out the rest of his life. And those who "drink from his mouth" will be Yogi-Christs as well, one with God, one with the Cosmic Christ and one with all the Christs that have walked the earth.
Saint Paul, a Christ himself so identified with Jesus Christ that he even bore in his body the wounds of Jesus (Galatians 6:17), wrote: "We speak the wisdom of God in a mystery, even the hidden wisdom, which God ordained before the world unto our glory: which none of the princes of this world knew:… but God hath revealed them unto us by his Spirit: for the Spirit searcheth all things, yea, the deep things of God.… For who hath known the mind of the Lord, that he may instruct him? But we have the mind of Christ" (I Corinthians 2:7-8, 10, 16). This is indeed the state of a Christ, the state for which each one of us is destined. All we need is the Christ Yoga for our transformation.
Read the next article in the Gospel of Thomas for Yogis: Finding the Hidden Treasure
(Visited 392 time, 1 visit today)