Chapter 25 of the Gospel of Thomas for Awakening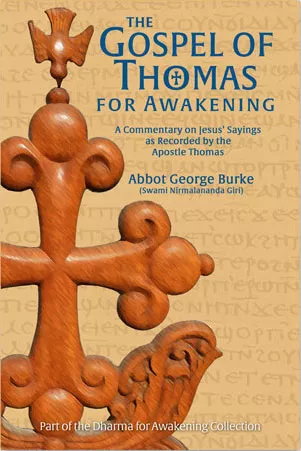 Jesus said, Love your brother like your soul, guard him like the pupil of your eye. (25)
The basis of this verse is the fundamental truth of the absolute unity and identity of all things. We are one with all that exists as well as with the Ground of Being from which all things have emanated and into which all shall return; and we are also one with all the individual spirit-consciousnesses which live eternally in that Ground of Being we usually call God.
Love
Since all are one, if we aspire to love any one thing or person we must necessarily cultivate the ability to love all, for the individual cannot be separated from the All. The plain fact is, all that exists is our "brother" who is also our "soul," for although that "brother" is not us, his/its essential being is our essential being: God. The following is the description by Saint Ambrose of Optina (Russia) of the experience that triggered his spiritual quest.
"Suddenly, I am outside of the forest, somewhere far away, in another world, quite unknown to me, never seen by me, never imagined by me. Around me there is bright, white light! Its transcendence is so pure and enticing that I am submerged, along with my perception, into limitless depths and cannot satisfy myself with my admiration for this realm, cannot completely fill myself with its lofty spirituality. Everything is so full of beauty all around. So endearing this life–so endless the way. I am being swept across this limitless, clear space. My sight is directed upwards, does not descend anymore, does not see anything earthly. The whole of the heavenly firmament has transformed itself before me into one general bright light, pleasing to the sight.
"But I do not see the sun. I can see only its endless shining and bright light. The whole space in which I glide without hindrance, without end, without fatigue, is filled with white light, just as is its light and beautiful beings, transparent as a ray of the sun. And through them I am admiring this limitless world. The images of all these beings unknown to me are infinitely diverse and full of beauty
"I also am white and bright as they are. Over me, as over them, there reigns eternal rest. Not a single thought of mine is any longer enticed by anything earthly, not a single beat of my heart is any longer moving with human cares or earthly passion. I am all peace and rapture. But I am still moving in this infinite light, which surrounds me without change. There is nothing else in the world except for the white, bright light and these equally radiant numberless beings. But all these beings do not resemble me, nor are similar to each other; they are all endlessly varied and compellingly attractive. Amidst them, I feel myself incredibly peaceful. They evoke in me neither fear, nor amazement, nor trepidation. All that we see here does not agitate us, does not amaze us. All of us here are as if we have belonged to each other for a long time, are used to each other and are not strangers at all. We do not ask questions, we do not speak to each other about anything. We all feel and understand that there is nothing novel for us here. All our questions are solved with one glance, which sees everything and everyone. There is no trace of the wars of passions in anyone. All move in different directions, opposite to each other, not feeling any limitation, any inequality, or envy, or sorrow, or sadness. One peace reigns in all the images of entities. One light is endless for all. Oneness of life is comprehensible to all.
"My rapture at all this superseded everything. I sank into this eternal rest. No longer was my spirit disturbed by anything. And I knew nothing else earthly. None of the tribulations of my heart came to mind, even for a minute. It seemed that everything that I had experienced before on earth never existed. Such was my feeling in this new radiant world of mine. And I was at peace and joyful and desired nothing better for myself. All my earthly thoughts concerning fleeting happiness in the world died in this beautiful life, new to me, and did not come back to life again. So it seemed to me at least, there, in that better world.
"But how I came back here–I do not recall. What transitory state it was, I do not know. I only felt that I was alive, but I did not remember the world in which I lived before on earth. This did not seem at all to be a dream. Actually, about earthly things I no longer had the least notion. I only felt that the present life is mine, and that I was not a stranger in it. In this state of spirit I forgot myself and immersed myself in this light-bearing eternity. And this timelessness lasted without end, without measure, without expectation, without sleep, in this eternal rest. Thus it seemed to me that there would not be any kind of change."
This is the basis for real love.
Protect
Since the life of our "brother" is our life, it must be protected, fostered and cared for as the pupil of our eye, without which we would be blind. Those who are blind to their fellow-beings are blind to all reality, however involved they may be in their egoic delusions they think are life. Our life is the life in all beings. We are both the One and the Many, and while passing through this world we must endeavor to live every moment with that consciousness. By so doing we are preparing ourselves for that passage from multiplicity to unity that is the essence of Liberation.
It is not enough to accept the principles of essential Unity, we must demonstrate them in our own consciousness and life. That alone can lead to freedom in the infinite Spirit.
Read the next section in The Gospel of Thomas for Yogis: Seeing
(Visited 677 time, 1 visit today)