Chapter 1 of The Gospel of Thomas for Awakening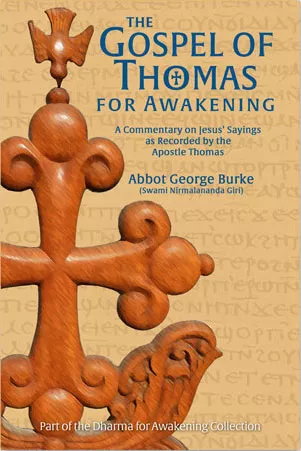 These are the secret sayings which the living Jesus spoke and which Didymos Judas Thomas wrote down."
(This is the sentence before the Gospel of Thomas actually begins.)
Secrets?
Everyone loves secrets, especially children–and those whose brains but not their hearts have matured. Religion is riddled with "secrets," "secret knowledge," "secret practices," "secret fraternities," "secret books," and suchlike, all creating an atmosphere reminiscent of old Flash Gordon serials and the Wizard of Oz. With many it is a passion to be of the elite and know the secrets the commoners know not; to seek and find what only the special few can access; to possess secret knowledge that gives secret power….
But Jesus, like Buddha, made it clear that he had no secret teachings, saying: "There is nothing covered, that shall not be revealed; and hid, that shall not be known. What I tell you in darkness, that speak ye in light: and what ye hear in the ear, that preach ye upon the housetops" (Matthew 10:26, 27).
In my search for the real teachings of Christ, I came across a number of secret Christian esoteric associations, all with secret knowledge and secret practices. The interesting thing was that although those groups did possess power and methods that produced an effect, in the final analysis they were ineffectual, and in some cases actually ran counter to the result desired. And in no instance was there the slightest justification for anything they knew or did being kept secret. Jesus certainly knew best, and acted accordingly.
No secrets
"Jesus answered him, I spake openly to the world; I ever taught in the synagogue, and in the temple…; and in secret have I said nothing" (John 18:20).
"No man, when he hath lighted a candle, covereth it with a vessel, or putteth it under a bed; but setteth it on a candlestick, that they which enter in may see the light. For nothing is secret, that shall not be made manifest; neither any thing hid, that shall not be known and come abroad.…No man, when he hath lighted a candle, putteth it in a secret place, neither under a bushel, but on a candlestick, that they which come in may see the light" (Luke 11:16, 17, 33).
"Wherefore if they shall say unto you, Behold, he is in the desert; go not forth: behold, he is in the secret chambers; believe it not" (Matthew 24:26).
The forgoing statements are surely sufficient to establish that Jesus had no secret teachings, whatever may be said at the present day. Why, then, this statement about "secret sayings which the living Jesus spoke?" Actually they were not secret, but unknown to those outside the circle of Jesus' disciples. Then they were shunted aside by those who were intent on making Christianity in their own and the "Christian" emperor's image. (It is my speculation that the great library of Alexandria was not burned to destroy "pagan" books abhorred by the official Christians, but to destroy early Christian books no longer compatible with their new state Christianity.) Those that still believed the original teachings of Jesus were forced to keep them secret to escape banishment from the empire, imprisonment, or even death. So the copyist prefaced the book with this sentence, obviously not from Saint Thomas.
Secret/hidden
One English translation out of many–Grondin's–renders the expression "hidden words." The Greek work kruptos (from which we get the words crypt and cryptic) means something that is concealed or hidden because it is inside–inward. The sayings of Jesus are still secret as far as the outer world is considered because their understanding is a matter of personal, private experience that by its nature remains hidden. And let us not forget another Greek word, mystikos, which also means inward and hidden. So we could validly say that these words of Jesus about to be given us are Mystical Sayings.
Read the next Chapter in The Gospel of Thomas for Yogis: Seeking Is More Than Just Finding
(Visited 6,487 time, 1 visit today)