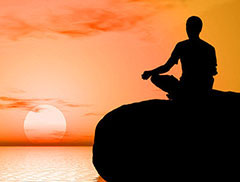 Preface to Religion for Awakening
After attaining enlightenment and having been entreated by the Creator Brahma to teach humanity the path to Nirvana, the Buddha began walking down a road.

The first person he encountered was a Brahmin who perceived that he was seeing a kind of being that he had never seen before.

Filled with awe, he simply asked: "What are you?"

Buddha replied as simply: "I am awake."

And walked on.
It is easy to forget the goal of life in the maze of philosophy and theology as easily as in the maze of superstition, ignorance and delusion. One of Buddha's missions was to sweep away the maze and go directly to the sole need of the human being in his teaching. And so he began by the breathtaking statement: "I am awake" to indicate that awakening is the only purpose of sentient existence.
This text
This book is basically the work of F. W. Pigott an esoteric Christian bishop within the Liberal Catholic Church in Great Britain who wrote in the first half of the twentieth century. He wrote several books and many articles which were rightly valued for their breadth, depth and directness.
One of his books was Religion For Beginners published in 1928 Although in the Introduction he insisted that the book was meant for young people with little or no religious background, some of whom might find it too elementary for them, it was in reality a profound study in practical truth and is perhaps needed more today than nearly a century ago.
Because of certain elements in the book that reflected the distinctive beliefs and aspirations of the Theosophical Society at that time, before his death he expressed the wish that the book not be reprinted. Although understanding and respecting the bishop's opinion, it has seemed to me that an edited–and occasionally adapted–version of the book would be of great profit to students of esoteric Christian wisdom. Hence I have called it Religion For Awakening, for it is a definite call to personal awakening.
Abbot George Burke
Read Chapter One in Religion for Awakening
(Visited 845 time, 1 visit today)