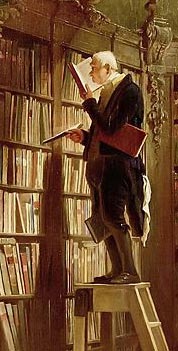 An essential part of spirituality is conscious growth and evolution. And an important aspect of growth is the willingness, even a thirst, for learning: what works, what doesn't work; what helps and what hinders our spiritual life. We can learn from the wise, who have cut paths through the dense forest of ignorance, or who have successfully followed those paths, and make our sojourn easier and more effective.
The Internet is a vast sea of information, and finding what you need to know can be a time-consuming project. Especially when it comes to locating spiritual resources, separating the good from the mediocre and useless can be a frustrating undertaking. So we have put together a list of what we have found to be extraordinary web sites of wisdom which will be a help to anyone striving to grow spiritually.
This site is a freely available archive of electronic texts about religion, mythology, legends and folklore, and occult and esoteric topics, with over 1400 books online. You will find an impressive array of the principal texts for the various religious traditions, both mainstream and obscure.
The External Links section for the Bhagavad Gita has links to 10 online translations of the Gita, as well as several commentaries, as well as audio versions of the Gita.  (The External Links section at the bottom of any Wikipedia article can be a treasure trove of resource material if you are looking up a spiritual subject.)
This extensive library contains texts of the Bhagavad Gita, Upanishads, Brahma Sutras, Shankara's writings and much more. There is also a considerable library of some of India's prime religious texts.
Like the Celextel Library, this site has links to translations of the principle scriptures of Indian spiritual thought.
Swami Vivekananda is regarded as the chief disciple of Sri Ramakrishna, and was one of the first to make the spiritual wisdom of India well known in the West. WikiSource has now made available the ten printed volumes of Swami Vivekananda's writings, lectures, and letters.
Access to Insight has English translations of many of the most important sections of the Pali Canon, as well as books, essays, sutta commentaries, and study guides to Theravada Buddhism. It includes a large section of useful writings by the Venerable Thanissaro Bhikkhu, renowned author and monk of the Thai Forest tradition, and dhamma talks by Ajaan Chah, one of the great modern saints of Thailand.
Another site with great resources Theravada Buddhism is Dhamma Talks, with articles in English and also a good number of other languages by some of the most renowned figures in contemporary Theravada Buddhism.
This is a site dedicated to Patanjali's Yoga Sutras, with multiple translations of the Sutras into English, as well as in a surprising number of other languages–a very helpful resource for serious students of yoga.
Paramhansa Yogananda's classic Autobiography has been the catalyst for spiritual awakening for tens of thousands of people. The original, unedited edition is now available online at the website of Ananda Village. This book is essential reading for anyone interested in spiritual life.
For any student of the Bible, this is a remarkable resource: a searchable online Bible in over 50 versions in numerous languages, with both old and contemporary translatons, including both text and audio versions of some of the translations.
The Society founded by the great Swami Sivananda of Rishikesh has a website full of useful information for spiritual aspirants. Includes spiritual instructions and discourses, as well as a large number of free eBooks by Swami Sivananda. The site also has photos, audio, and videos of this remarkable spiritual giant.
On this page, you can listen to Sanskrit chanting and recitation with English translations for some of the most powerful, holy, and ancient spiritual scriptures from India, including Bhagavad Gita, Shiva Sutras, Spanda Karikas, Bhaja Govindam, Pratyabhijanhrdayam, and more.
Last but not least, we have endeavored to make our own website into a spiritual resource, with features including A Brief Sanskrit Glossary , a Downloads page with a dozen PDF eBooks, and many more website articles, including commentaries on the scriptures of Hinduism, Buddhism, Christianity, and Taoism.
Alas, not all spiritual resources are on the web. To see what we consider the best spiritual reading in print, read our article, A Yogi's Recommended Reading List.
(Visited 1,966 time, 1 visit today)