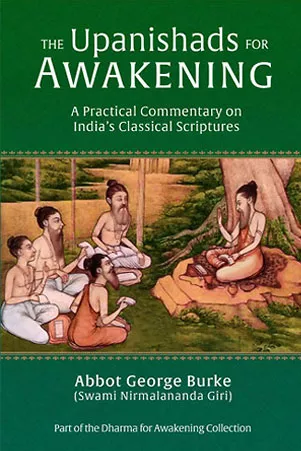 Section 29 of the Upanishads for Awakening

Somewhere along the line–perhaps when they stopped killing their own people for sacrificial victims and committing genocide for the glory of their gods–the religion of Westerners lost its vigor. When they thought they became Christians, "spiritual" came to be equated with the insubstantial and ethereal, degenerating in time into an airy and vaporous sentimentalism of the sickliest character. Languishing in love for God became an ideal along with nobly bearing the terrible burdens God threw onto a groaning and groveling humanity. The keynote of all this was passivity, and not a passivity born of true courage or nobility, but from a crushing sense of impotence and hopelessness. Hell became exalted to heaven, and the contempt of a capricious and tyrannical God became Divine Love, a love that demanded placation and acceptance-obedience. This God of love hated a lot more things than he liked and basically tolerated nothing. His religion in time became just like him, and so did many of his devotees–in attitude and deed. Since he was the ideal Father, they began treating their children just as he did his. Contemporary Western society is the result. Even the rebellion against this madness is as hateful, ignorant, and repressive as that which is being supposedly rejected. Only the pious cover is discarded; the evil core flourishes. The utter insubstantiality of the "spirituelle" has become a logical doorway to denial of any spiritual reality.
In the East (things are fundamentally different, even if some of the sillier ways of Western religion are also to be found there, particularly in the "bhakti movement" of India. The concept of the Self as identified with the Supreme Self rather than a creation whose tenuous existence is continually threatened by the possibility of divine wrath, has produced a psychology and a society the reverse of that found in the West. The Self is as eternal and immovable as God–because it is one with God. Always.
In the nineteenth century the remarkable poet, author, and mystic. Emily Bronte had rejected the ignorant religion of her childhood for intuitive affirmation rather than negation. When death was only a matter of weeks away, she wrote this final poem:
No coward soul is mine,
No trembler in the world's storm-troubled sphere:
I see Heaven's glories shine,
And Faith shines equal, arming me from Fear.
O God within my breast,
Almighty, ever-present Deity!
Life, that in me has rest,
As I, undying Life, have power in Thee!
Vain are the thousand creeds
That move men's hearts: unutterably vain;
Worthless as withered weeds,
Or idlest froth amid the boundless main,
To waken doubt in one
Holding so fast by Thy infinity,
So surely anchored on
The steadfast rock of Immortality.
With wide-embracing love
Thy Spirit animates eternal years,
Pervades and broods above,
Changes, sustains, dissolves, creates, and rears.
Though earth and moon were gone,
And suns and universes ceased to be,
And Thou wert left alone,
Every existence would exist in Thee.
There is not room for Death,
Nor atom that his might could render void:
Thou–thou art Being and Breath,
And what thou art may never be destroyed.
Yama's analysis of the Self has had a very logical progression. Then he tosses out to Nachiketa a single incredible sentence: "To him Brahmins and Kshatriyas are but food, and death itself a condiment" (Katha Upanishad 1:2:25).
All that we consider worthy of respect, either venerable (brahmin) or powerful (kshatriya), is but a snack to the everlasting Self. Even death, which is ever with us and seemingly rules our destiny, is but a flavoring for the Self at its feast of life, adding spice.
Yama's words are reminiscent of Arjuna's vision of the Universal Self in the eleventh chapter of the Bhagavad Gita. Since the individual atman and the Paramatman are one they have the same qualities. Just as Arjuna saw that all things emanate from the Supreme and are reabsorbed in the Supreme–are "eaten" by It, so it is with the Self. All that is "us" has come from the Self and shall return to the Self. The Self is the eternal immortal source of that which we think is temporal and perishable. But only the forms are such. Their essence is the Self.
Unborn, the Self moves through many births. Formless, the Self inhabits many forms. Untouched, the Self encounters a myriad objects. Unconditioned, the Self manifests countless qualities. Remaining what it is, the Self appears to be all that it is not. All that it encounters is but its repast, and its births and deaths merely a sauce.
"Licking with your burning tongues, devouring all the worlds, you probe the heights of heaven!" (Bhagavad Gita 11:30).
Read the next article in the Upanishads for Awakening: The Divine Indwellers
(Visited 258 time, 1 visit today)