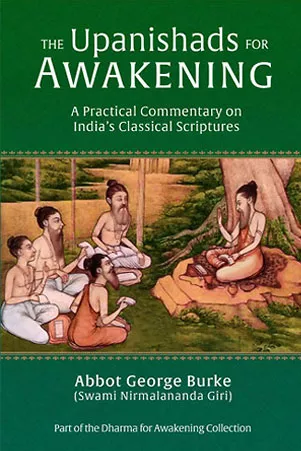 Section 76 of the Upanishads for Awakening

Now we come to the story of another student: "Upakosala dwelt as a student in the house of Satyakama for twelve years. Though the teacher let other disciples return to their homes after they had been duly taught the way of truth, Upakosala was not allowed to depart. The wife of Satyakama entreated her husband to finish teaching him in order that he might go home like the rest, but Satyakama not only refused to do so but went off on a journey. At this Upakosala was so sad and sick at heart that he could not eat. The teacher's wife plied him with food, and in everything treated him with tender affection, but to no avail. At last the boy cried out to her: 'O mother, my heart is still so impure; I am too unhappy to eat!'" (Chandogya Upanishad 4:10:1-3).
The mind of Upakosala
Satyakama did not let Upakosala return home because he had not learned all that was necessary for leading a fully dharmic life according to the scriptural precepts. It is interesting that Upakosala does not consider that his failing is an academic one, but rather one of interior disposition. This shows his fundamental worthiness. "My heart is still so impure" is a misleading translation. The text actually says: "In this person there are these many desires which tend towards many things–I am filled with them" (He spoke in the third person because he was objective in analyzing himself. This indicates his lack of egotism).
This reminds us of the following from the life of Jesus: "He entered into a certain village: and a certain woman named Martha received him into her house. And she had a sister called Mary, which also sat at Jesus' feet, and heard his word. But Martha was cumbered about much serving, and came to him, and said, Lord, dost thou not care that my sister hath left me to serve alone? bid her therefore that she help me. And Jesus answered and said unto her, Martha, Martha, thou art careful and troubled about many things: But one thing is needful: and Mary hath chosen that good part, which shall not be taken away from her" (Luke 10:38-42).
Upakosala understood this (and Jesus must have studied this upanishad in India), realizing that although desires may not be negative or foolish, yet they pull us in many directions, whirling us around and confusing our minds and depleting our life energies. Only when the mind is fixed on the One can the many be safely attended to.
Why…
Why did the sage leave this boy to his sorrow? Those who see with earthly eyes and think only earthly thoughts often accuse the saints of being heartless or even cruel. But they know what they are doing, and are aware that their actions are needed. When Jesus told his disciples that he would be leaving them, they were unhappy. So he said: "Because I have said these things unto you, sorrow hath filled your heart. Nevertheless I tell you the truth; It is expedient for you that I go away: for if I go not away, the Comforter will not come unto you; but if I depart, I will send him unto you" (John 16:6,7). Vivekananda once commented: "A man harms his disciples by staying too long with them," for they do not develop the independence needed to pursue spiritual life. Swami Sivananda often sent his disciples away to engage in spiritual practice or spiritual work. Even at the time of his leaving this world, few "old" disciples were present.
There was a man who very much wanted spiritual instruction from one of Sri Ramakrishna's disciples, but that man sent him to another disciple, who sent him to still another–and that one refused him, too. Becoming very upset, even angry and bitter, the man left Calcutta and returned home. That very night he awoke, feeling that someone was in his room. Indeed there was: Sri Ramakrishna himself in living, physical form! He touched the man, blessing him, and gave him spiritual instruction. The next time that man saw one of his refusers, he was told: "We knew you were destined to receive personal instruction from Sri Ramakrishna himself; that is why we did not teach you ourselves."
The teaching
And so it was with Upakosala. Through a voice from the sacred fire Brahman became his teacher. Here is how: "Then a voice from out the fire which he was tending said: 'This life is Brahman. The sky is Brahman. Bliss is Brahman. Know thou Brahman!' 'I know that life is Brahman,' replied Upakosala. 'But that the sky is Brahman, or that bliss is Brahman, I do not know.' Again came the voice from out the fire, this time explaining that by sky was meant the lotus of the heart, wherein dwells Brahman, and that by bliss was meant the bliss of Brahman. 'Both,' said the voice, 'refer to Brahman'; and, continuing, it taught Upakosala thus: 'Earth, food, fire, sun–all these that you worship–are forms of Brahman. He who is seen in the sun–that one am I. He who dwells in the east, in the north, in the west, and in the south, he who dwells in the moon, in the stars, and in water–that one am I. He who dwells in the sky and makes the lightning his home–that one also am I. Know well the true nature of the world that it may never do you harm.' Thereupon the fire, which had been only an earthly fire with which to prepare sacrifices, assumed a new aspect, and became the Lord himself. The earth was transformed; life was transformed; the sun, the moon, the stars, the lightning–everything was transformed, and deified. And thus it was that to Upakosala the true nature of all things was revealed" (Chandogya Upanishad 4:10:4,5; 4:11:1,2; 4:12:1, 2; 13:1, 2; 14:1).
This is thoroughly clear, and needs no comment, except to say that here we see the nature of enlightenment as a total transformation of perception. And that is one of the greatest teachings of this upanishad.
The final words
"In due time Satyakama returned home. When he saw Upakosala, he said: 'My son, your face shines like one who knows Brahman. Who has taught you?' 'Beings other than men,' replied Upakosala. Then said Satyakama: 'My son, what you have learned is true. True also is this that I teach you now. Lo, to him who knows it shall no evil cling, even as drops of water cling not to the leaf of the lotus: He who glows in the depths of your eyes–that is Brahman; that is the Self of yourself. He is the Beautiful One, he is the Luminous One. In all the worlds, forever and ever, he shines!'" (Chandogya Upanishad 4:14:2 3; 4.15:1,4).
Nothing more can or need be said.
Read the next article in the Upanishads for Awakening: Svetaketu
(Visited 758 time, 1 visit today)